Anchored Actions To Do 50-Sheet Pads – Set of 2
$7.50
Description
The Anchored Action 50-sheet pads, the best to do list ever – with 11 line items, Because 10 items are not enough, need 11 items for that extra credit item!
Comes in a package of two for $7.50 with Free Shipping!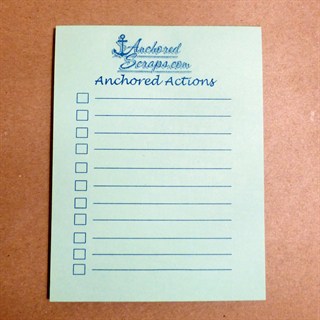 This To-Do list is designed to drive action to the completion of items that made this list – track the big items for the week on this list, or by category per sheet, or make it for daily use.   The pad measures  4 1/4″ x 5 1/2″.   There are 11 lined items on each sheet – ten for your top 10 and the 11th line is for 'extra credit' to give yourself an earned gold star.   
My Dad was a big advocate of what he called "Delayed Gratification" which underlies and drives goal setting for me. The idea is to focus on investing in our future with completing things now we may not want to do but make a difference – especially over time.
I'm amazed at how investing  15 minutes per week to focus on prioritizing the next week's goals makes a big difference.   
Today I want to encourage you to consider making your own list of items that are "Anchored Actions" for the coming week ahead. 
From my blog post debuting Anchored Actions, April 26, 2015