1964 Christmas 5¢ Stamps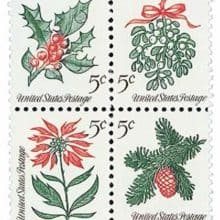 We are looking back at the 1964 Christmas 5¢ Stamps for our blog post today.
Earlier this week when putting stamps onto a Christmas letter to a PenPal I came across a set of them; it was fun to put all four onto the envelope and adding additional stamps to equal 49 cents.
Before sharing details about the stamp, a quick welcome to the new email blog subscribers this week to AnchoredScraps.
From Mystic Stamp Company about the 1964 Christmas 5¢ Stamps
"This third U.S. Christmas issue was unique in that it was the first time the Post Office had printed more than one stamp design on one sheet. Each block of four contains four different illustrations that were issued attached or "se-tenant." The first, mistletoe, symbolizes peace, according to ancient tradition. Holly symbolizes the thorns placed upon Christ's head. The use of evergreens for trees and wreaths is depicted. The poinsettia is the traditional Christmas flower."
Do you recall at the beginning of today's post I was mentioning having a block of these stamps? They were part of the bunches of stamps I picked up this past February at the 25th Annual Myrtle Beach Stamp Show.
Perhaps you already have some of these or similar old Christmas stamps among your letter writing supplies – if so I encourage you to use them! If you are wanting to pick up some, there are several places including Mystic Stamp Company which I've been referencing in today's post. Other places include picking them up at stamp shows for postage – we are not talking about mint to save but for mailing. There will be more to follow on this in a later post! Join me tomorrow for my Sunday blog post.

Anchors Aweigh,  
Helen
---
1964 Christmas 5¢ Stamps Attribution & Thank you to the following who are referenced today
Mystic Stamp Company 1964 Christmas 5¢ Stamps; #1254-57 1964 5c Christmas Fleetwood First Day Cover
25th Annual Myrtle Beach Stamp Show on 2-12-2017