In today's blog post we are looking at a new book that is full of examples of how people have used their typewriter to create art through their selective use of the typewriter keys against the paper to use as a medium to create artworks.    Maybe you will be inspired to add a typewriter to call you own if you do not already have one after going through the many examples.
If you did not see the article in The Guardian earlier this month, "Clickety-clack! The amazing art of the typewriter – in pictures:  "Since its invention, people have used the typewriter to create captivating artworks, now gathered in a new book, The Art of Typewriting".  The article describes the book: "Marvin and Ruth Sackner have collected over 600 pieces of typewriter art since the 1970s, ranging from early ornamental works produced by secretaries in the late 19th century to more recent pieces exploring the uniqueness of a typewritten document in the digital age."   The article shows several examples including the one below from 1940 of Shirley Temple.
The idea for today's blog post started with seeing this tweet a few weeks ago from Typewriter Revolution who shared the link to the article about the book.   (Image on left)
The book is entitled: The Art of Typewriting  Hardcover, showing a publication date of October 26, 2015  by Marvin Sackner and Ruth Sackner  – it has "over 550 examples produced by more than sixty of the world' finest contributors to the genre."  The website describes 'each copy of the book is designed with its own unique cover'.
Who knew that something we have done sitting at our typewriter/keyboard playing around with repetition of letters and numbers could be elevated to this level – perhaps you have a few examples yourself tucked away.   Here's to being creative with time spent at our typewriter and keyboards in the future.  Join me tomorrow for our Friday blog post as we wrap up the week and head into the weekend.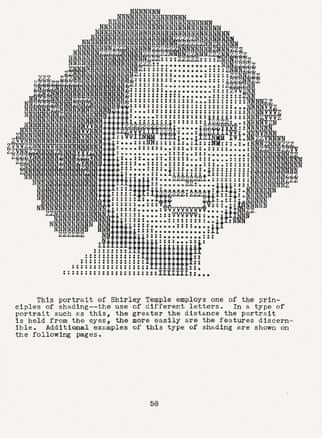 Anchors Aweigh,  
Helen
---
Attribution & Thank you to the following who are referenced today —
Article: The Guardian Clickety-clack! The amazing art of the typewriter – in pictures  October 05, 2015 @guardian
Book:  Image of cover, and image of Shirley Temple from The Art of Typewriting  Oct 26, 2015  by Marvin Sackner and Ruth Sackner @thamesandhudson
Twitter: @typewriterRev October 05, 2015 tweet:  #typewriter drawing by Henri Chopin from The Art of Typewriting http://t.co/LMSfhU9uVd