Thank a Mailman Day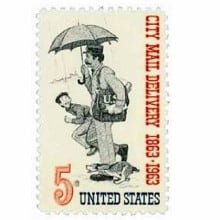 Today is Thank a Mailman Day!  It is an opportunity to thank the person who delivers our mail six days a week.  It is held on February 4th each year.
Thank a Mailman Day
Think of some of the fictional postal characters we've known:  Cliff Clavin with Cheers; Newman with Seinfeld; and Mr. Wilson – from Dennis the Menace (I did not realize he was a retired mail carrier); Sam Drucker from Petticoat Junction & Green Acres (he ran a post office in his general store); and of course Mr. Zip with the United States Postal Service (he was blogged about here back on June 8th last year).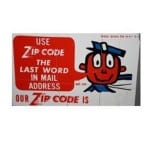 You will want to check out this Thank a Mailman Postcard tutorial: 
"Thank a Mailman Day".  This is a great chance to say a BIG thank you to the person who braves the rain, snow and sleet to bring you your mail." It is a nice tag with to print off and attach with ribbon to a bag of M&M's for example.
Whether it is a treat such as linked to in the tutorial above, a warm smile, and/or a sincere Thank You be sure to take a few minutes next time you have the opportunity to see your mail carrier.   Thank you!

Anchors Aweigh,  
Helen
---
Attribution & Thank you to the following who are referenced today —
Image shown upper left U.S.P.S. stamp #1238  5¢ City Mail Delivery issued October 26, 1963. "U.S. #1238 commemorates the centennial of City Mail Delivery. The stamp pictures a nostalgic Norman Rockwell drawing of an 1860s letter carrier." Mystic Stamp web site
Thank a Mailman Postcard tutorial at who-arted.com site: Thank a Mailman Day! January 25, 2013 posted by Becca
Wikipedia: List of fictional postal employees
Image above Mr. Zip by United States Post Office Department [Public domain], via Wikimedia Commons
AnchoredScraps.com blog post Looking for Zip Codes  June 8, 2015 written by Helen Rittersporn