On this Saturday morning today's blog post is on the Archie Comics 75th Anniversary.  It was initially posted from my smart phone earlier this morning in the midst of a power outage.
The 44¢ Archie stamp shown is from the 2010 Sunday Funnies series celebrating the comic created in 1941.
In reading from this September 29th ArchieComics.com article it shares about "Archie Comics continues its year-long 75

th

anniversary celebration…"  
To begin with, from Archie Comics rocks New York Comic Con 2016 with ARCHIE MEETS RAMONES and JOSIE & THE PUSSYCATS comic book launches
"…New York Comic Con 2016 —coinciding with the launch of ARCHIE MEETS RAMONES, the oversized one-shot comic celebrating the 75th Anniversary of Archie Comics and the 40th Anniversary of the legendary punk group the Ramones.    
Archie Comics continues its year-long 75th anniversary celebration with the upcoming premiere of a new, hour-long live-action drama series, 'Riverdale' on The CW in early 2017..."
This afternoon includes a panel on Archie Comics Forever: 75 Years of Storytelling.
"Just in time for the new JOSIE AND THE PUSSYCATS series and ARCHIE MEETS RAMONES one-shot, this Panel has it all! Get exclusive news on upcoming titles and a look at The CW's 'Riverdale TV' show! "…
For those of you who still remember when it aired here is the 1969  The Archies with Sugar, Sugar.   That YouTube posting has a very detailed history about it.
"Sugar, Sugar" is one of 16 animated music segments created to be shown on "The Archie Comedy Hour" on CBS-TV in 1969, and the song is included on The Archies' 2nd album, "Everything's Archie," also released in 1969."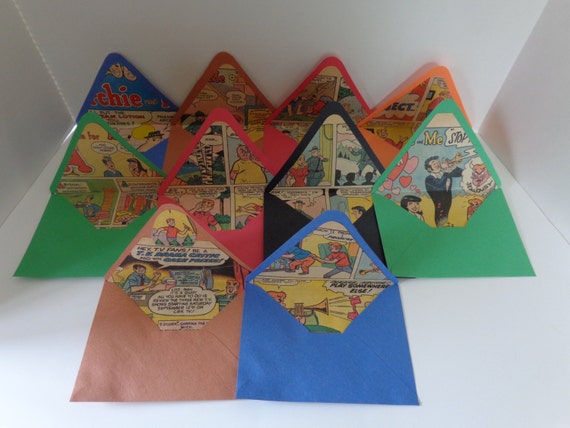 These 1970's Archie Comics Handmade Envelopes and Liners I'm ordering!
As we wrap up today, the power has been restored.  I'm still closing today blog post with: Stay dry!
Anchors Aweigh,   
Helen 
---
Archie Comics 75th Anniversary Attribution & Thank you to the following I'm referencing today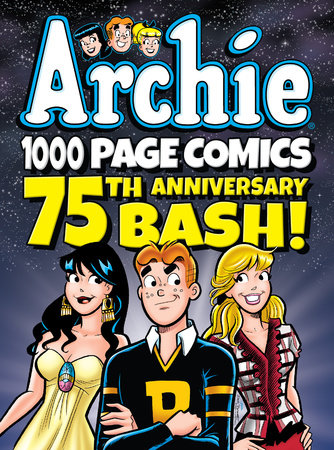 Image above upper left 44¢ Archie stamp, #4469, shown from the 2010 Sunday Funnies series at MysticStamp.com
Excerpt from Archie Comics rocks New York Comic Con 2016 with ARCHIE MEETS RAMONES and JOSIE & THE PUSSYCATS comic book launches   and  Archie Comics Panels at New York Comic Con 2016 
Image Archie 1000 Page Comics 75th Anniversary Bash by Archie Superstars Penguin Random House
Excerpt and YouTube The Archies – Sugar, Sugar (Original 1969 Music Video) posted by windsorbear uploaded on Dec 7, 2010
Image above 1970's Archie Comics Handmade Envelopes and Liners from LeObjectUnique on Etsy