Nutcracker Stamps Puzzle Postcards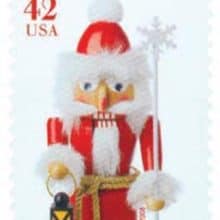 Today as we continue our First Noel Letters Countdown it is Day 10 and we are looking at these Nutcracker Stamps Puzzle Postcards. 
Earlier this year in ordering from the USPS.com website it was fun to discover these Holiday Nutcrackers Secret Puzzle Postcards (Set of 4).  They actually open and one can write a message and/or affix a photo and then re-close it before mailing it.
The four postcards come with four corresponding Nutcracker stamps from 2008.   Image above is the Santa, there is a king, drummer, and military captain in the set of four designs.
It was fun sending them in the mail this week!
Thank you for joining me today.  Join me tomorrow – for my Christmas Eve day blog post.

Anchors Aweigh,  
 Helen  
---
Nutcracker Stamps Puzzle Postcards Attribution & Thank you to the following who are referenced today
Image above Mystic Stamp Company – Santa #4361 – Holiday Nutcrackers – 42¢ 2008.   Image set of four USPSStamps, from the 2008 Nutcracker – Contemporary Christmas Convertible Booklet
Image above Holiday Nutcrackers Secret Puzzle Postcards (Set of 4)