Pressed Pansies Flowers Notecards and 1996 Pansy Stamp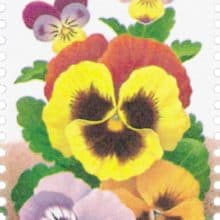 Earlier today I found myself updating all of the pansies in our planters inspiring today's blog post on Pressed Pansies Flowers Notecards and 1996 Pansy Stamp. There will be more on the pansies in the planters later in today's blog post.
The 1996 Pansy stamp, 32¢, was part of the Winter Garden Flowers series by the USPS.  This First Day Cover (envelope) available at the Mystic Stamp Company really shows off the stamp.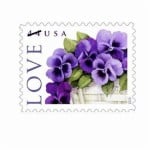 Here is a link to my blog post last March on Spring into March Pansies Stationery, it included the U.S.P.S. 2010 44cents Love: Pansies in a Basket commemorative stamp.
Pressed Pansies Flowers Notecards
Over at Etsy VTPressedFlowers these Pansies, Pressed Flower Cards, Set of 6 Notecards – #061, are handmade and list the set of six note cards (2 each of the three designs) for $10.00. I'm definitely going to be spending some time shopping and exploring all of these beautiful items in this Etsy shop further and cover in more detail VTPressedFlowers in a future blog post too!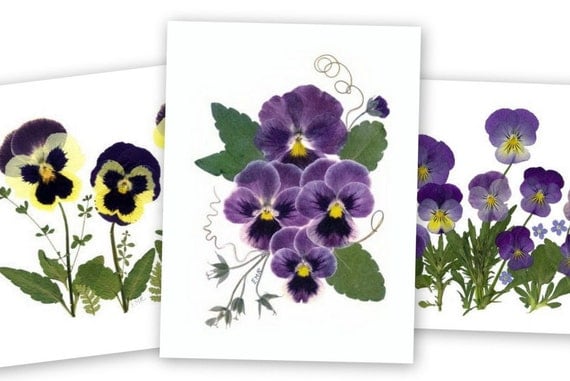 Now back to the rest of the story on the pansies in my planters earlier today! The weather was perfect for carting my wagon around with me and replacing my pansies from last October. Initially, I was hoping the new pansies will make it to Easter with the weather permitting. After watching this YouTube on How To keep your Pansies looking Full and Flowering all season long, I'm looking forward to trying out the tips given!

Here's to cheering on early plantings with six weeks to Easter 2017! Wishing you a joyous week ahead. Join me tomorrow as we kick off the new week!

Anchors Aweigh,  
Helen  
P.S. We discovered our puppy Cooper LOVES to dig in the dirt alongside me – his paws are much faster than I am with my small gardening tools and there was dirt everywhere and a very happy puppy!
---
Pressed Pansies Flowers Notecards and 1996 Pansy Stamp Attribution & Thank you to the following