The Entertainer Scott Joplin Anniversary Station Pictorial Postmark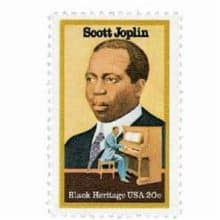 The US Postal Service has extended the Scott Joplin Anniversary Station Pictorial Postmark for 30 days, for the Saint Louis Stamp Expo.  Think Ragtime, Think The Entertainer, the 1973 movie The Sting with Newman and Redford and you have his best-known composition!
As we head into the weekend I did not want us to miss this from earlier this week.  There was a tribute to Ragtime composer Scott Joplin on April 3, 2017 – it was the 100th anniversary of his death.  From April 3rd this week MorrisTownGreen.com: "The Bickford Theatre Commemorates The 100th Anniversary of Scott Joplin's Death. Virtuoso Pianists Jeff Barnhart and Richard Dowling in Concert"
"…Then in 1973, the popularity of the movie The Sting catapulted the Joplin composition "The Entertainer" to the top of the charts and earned an Oscar for Marvin Hamlisch for Best Original Song, even though Hamlisch took the song directly from Scott Joplin.

Scott Joplin has now received the credit he deserves with an induction into the Songwriter's Hall of Fame, a special Pulitzer Prize, his own postage stamp, and a star on the St. Louis Walk of Fame…"
Scott Joplin 1983 USPS Stamp
Image above upper left is the 1983 USPS stamp honoring composer Scott Joplin.  "Known as the "king of ragtime," Joplin wrote several ballets and even an opera. However, because these did not sell, Joplin died penniless in a New York City Hospital." It is the sixth stamp in the Black Heritage Series.
The Entertainer (The Sting) Scott Joplin Piano Solo
Spoiler alert – if you have not seen the movie The Sting yet, wait on watching this two minute YouTube as it has some of the 'best of' scenes from the movie.

Happy Friday! Join me tomorrow for my Saturday blog post here at AnchoredScraps.com, encouraging more letter writing and with that said – here's to putting more stamps on our outgoing snail-mail!


Anchors Aweigh,  
Helen