Antarctica Penguin Post Office & 2015 Penguins Additional Ounce Rate Stamp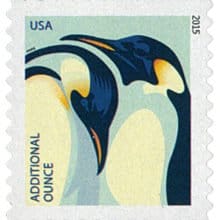 This morning we have the Antarctica Penguin Post Office.  And the image upper left is the 2015 22c Penguins Additional Ounce Rate Stamp. I'm loving our blog topic this morning with all things penguins!
Today is daily blog post 799 so I've got that number on my mind and while I did not count 799 penguins in the one minute 2015 PBS Nature Preview on the Penguin Post Office, I am including the video below.
Over at PBS Nature, there is this About Penguin Post Office which Premiered on January 28, 2015:
"Antarctica's most popular turist destination is a unique British post office located in the heart of the Antarctic Peninsula at Port Lockroy, about 700 miles south of Argentina and Chile. Enthusiastic cruise ship passengers from around the world come ashore throughout the Antarctic summer to see the colony of 3,000 gentoo penguins that takes up residence each year alongside Port Lockroy's other summer inhabitants – the post office staff.

Penguin Post Office follows the daily lives of the gentoos as they find their mates, build their nests and raise their young. Also featured are interviews with members of the small group of volunteers from the United Kingdom Antarctic Heritage Trust who run the remote British outpost. Hearty enthusiasts themselves, they ready the post office, gift shop and on-site museum to welcome the thousands of visitors who will arrive over the course of the four-month-long tourist season." …
2015 22¢ Penguins Additional Ounce Rate Stamp
Currently, I've got several sheets of these stamps! They are very convenient to have on hand.
The Mystic Stamp Company has a really nice write up about the 2015 22¢ Penguins Additional Ounce Rate Stamp concluding with "… Collected at the height of the "Heroic Age of Antarctic Exploration," Edward Wilson's emperor penguin eggs serve as a reminder of the sacrifices made in mankind's continuous pursuit of knowledge."
Wishing you a Happy Thursday! Join me tomorrow for my #800 daily blog post since launching AnchoredScraps.com!

Anchors Aweigh,  
Helen  
---
Antarctica Penguin Post Office Attribution & Thank you to the following who are referenced today
Image above, excerpt #4989 – 2015 22¢ Penguins Additional Ounce Rate Stamp  @USPS @USPSStamps
YouTube NATURE | Penguin Post Office | Preview | PBS, Published on Jan 16, 2015
PBS Nature About Penguin Post Office which Premiered on January 28, 2015: