Gary Cooper 2009 Legends of Hollywood stamp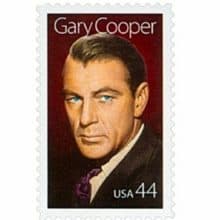 Today we are looking at the Gary Cooper 2009 Legends of Hollywood stamp, on his birthday May 07.
The film I most associate him with is the classic Sergeant York. At the National Film Registry, there is a really nice Sergeant York film essay to read at the Library of Congress by Donna Ross. he "…Preservation Board and maintains the National Film Registry website. … "Sergeant York", National Film Registry, Library of Congress, World War I".
Gary Cooper 2009 Legends of Hollywood stamp
This is from their description about the stamp, I did not realize he had been an editorial cartoonist prior to being an actor.
"A cartoonist became one of the greatest actors on the silver screen.  Frank James Cooper was born in Montana in 1901 and moved to Los Angeles as a young man, after a failed career as an editorial cartoonist.  Cooper said he "would rather starve where it was warm, than to starve and freeze, too."  Once there, Cooper found work as a movie extra and changed his first name to "Gary," after Gary, Indiana.  A short Western film was his big break, and he went on to appear in more than 100 films.

Cooper turned down the lead role in one film, saying "Gone with the Wind will become the biggest flop in Hollywood history."  But Cooper's career didn't suffer.  Nicknamed "Coop," he became a Hollywood legend.  Cooper was known for playing characters with strong principles, such as decorated World War I hero Alvin York, and a lone, aging sheriff fighting four outlaws.  Cooper's performance was so memorable that, according to daughter Maria Cooper Janis, "His iconic image in High Noon was selected to be the Solidarity poster for Polish Democracy."

Cooper is regarded as one of Hollywood's all-time leading actors, winning two Oscars for Best Actor.  He was ranked 11th "Top Male Star" by the American Film Institute.  Cooper died in 1961, just one month after winning a Lifetime Achievement Oscar."
 Back to Sergeant York, I'm including the trailer from the movie to close out today's blog post.

Anchors Aweigh,  
Helen  
---
Attribution & Thank you to the following who are referenced today
Mystic Stamp Company, Image above, and excerpt.
Sergeant York Film essay
YouTube Sergeant York – Trailer Warner Movies On Demand, Published on Oct 20, 2013