USPS Henry David Thoreau 2017 Forever Stamp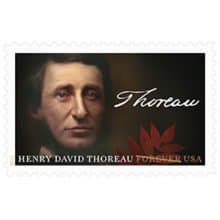 Right before Memorial Day last week the USPS Henry David Thoreau 2017 Forever Stamp was Commemorated.
I've included the two minute USPS Stamp Ceremony that was just posted to YouTube yesterday. It was especially fun to see how one of the Presenters handled quoting Thoreau about the Post Office:
"For my part, I could easily do without the Post Office. I think that there are very few important communications made through it." 




– Thoreau quoted during USPS Thoreau 2017 Stamp Ceremony
One of the Presenters, Matthew A. Beaton,  goes on to do a beautiful job "pardoning" Thoreau after sharing that quote.
Over at the US Postal News, there is this article, "New USPS stamps, celebrate famed Transcendentalist author Henry David Thoreau on the bicentennial of this birth!
"CONCORD, MA — The U.S. Postal Service celebrated writer, philosopher and naturalist Henry David Thoreau during the bicentennial year of his birth with a Forever stamp today. …

The first-day-issue stamp dedication ceremony took place at the Walden Pond State Reservation Visitors Center. Thoreau, born July 12, 1817, lived at Walden Pond from 1845-1847. His experience there served as the inspiration for his book Walden."  …  

To read the entire Postal News story, including Ordering First-Day-of-Issue Postmarks, and Ordering First-Day Covers, click here.
I'm concluding today's blog post with this quote by Thoreau:
"Our life is frittered away by detail… simplify, simplify." -Henry David Thoreau

Anchors Aweigh,  
Helen  
---
USPS Henry David Thoreau 2017 Forever Stamp Attribution & Thank you to the following who are referenced today
USPS Image above Henry David Thoreau Forever 49¢ in 3 Stamp Formats @USPS @USPSStamps #ThoreauStamps
USPS Postal News Excerpt Henry David Thoreau Commemorated on a Forever Stamp Today, May 23, 2017
YouTube Henry David Thoreau Forever® Stamp Ceremony USPS TV, Published on Jun 1, 2017, First-day-of-Issue Ceremony Recap, 23 May 2017