Wax Seal Letter Kit French Style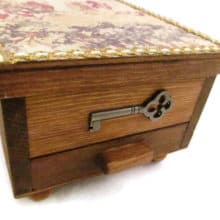 The art of combining storage along with function finds us looking at the charming Wax Seal Letter Kit French Style handmade box today.
I'm in the process of looking for the perfect wax seal letter kit box for my sealing wax set of existing items.  Taking the extra step for the finishing touch with using sealing wax with our letter writing can be a lot of fun.
This wax seal letter kit is one option that I'm really enjoying seeing and so we are covering it today.
Wax Seal Letter Kit French Style
To begin with, there are several Wax Seal Kit designs with wooden boxes over at Dewey's Nook Etsy Shop. This is the Wax Seal Letter Kit (French Style).
"… The handmade box is done in a French style. It includes a pull out drawer (where matches are kept), and a lift up top (Where the wax sticks and everything else is housed). The box also has a mirror on the top, for an extra touch. The box is 4 inches wide, 6 inches long, and 3 inches tall.

…This is an absolutely gorgeous desk piece. A must for anyone who is avid on writing letters, into the old world, or is planning to send secure mail."
In summary, the kit includes a handmade box, one Fleur De Lis wax sealer, along with 4 sealing wax sticks; there are replacements available at Dewey's Nook. When ordering, select the color of wax sticks from the pull down option list. The description listing states it even includes matches.
The weather has been having a really early spring with grass in the yard wanting to burst into bright green. We are one week away to Daylight savings time 2018 on March 11th.
In conclusion, be on the lookout for what to be using for storing your wax seal sticks and various items. I'll have to get a photo of the box I'm currently using and include in the near future. Join me tomorrow as we kick off a new week.

 Anchors Aweigh,  
Helen 
---
Wax Seal Letter Kit French Style handmade box  Attribution & Thank you to the following who are referenced today
DeweysNook Etsy Shop – Wax Seal Letter Kit French Style images, excerpt
AnchoredScraps blog post Vintage Fleur De Lis Sealing Wax Stamp 9-13-2017