USPS 2018 Dragon Forever Stamps & Here Be Dragons Pictorial Postmark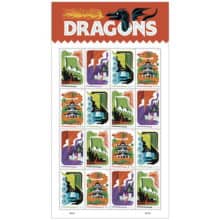 The First Day of Issue (FDOI) for the USPS 2018 Dragon Forever Stamps was held earlier today, and there is a Pictorial Postmark – "Here Be Dragons" available for ordering for the next 30 days.

To begin, I'm including this image from Twitter from today showing off the exhibit hall where the FDOI ceremony at the American Philatelic Society National Summer Convention Stamp Show took place.
USPS 2018 Dragon Forever Stamps
Furthermore, here are some details about the new stamps.
"Each of the 16 stamps showcases one of four dragons: a green fire-breathing dragon towering over a medieval-inspired castle; a purple dragon with orange wings and sharp black armor on its back snaking around a white castle; a black dragon with green wings and green armor on its back swooping past a ship on the sea; and a wingless orange dragon weaving its way around a pagoda."
Here Be Dragons Pictorial Postmark
Next, the details for requesting the August 9 Pictorial Postmark are at the current USPS Postal Bulletin. It contains the instructions for requesting, along with the mailing address as well as for other Pictorial Postmarks shown in the Postal Bulletin.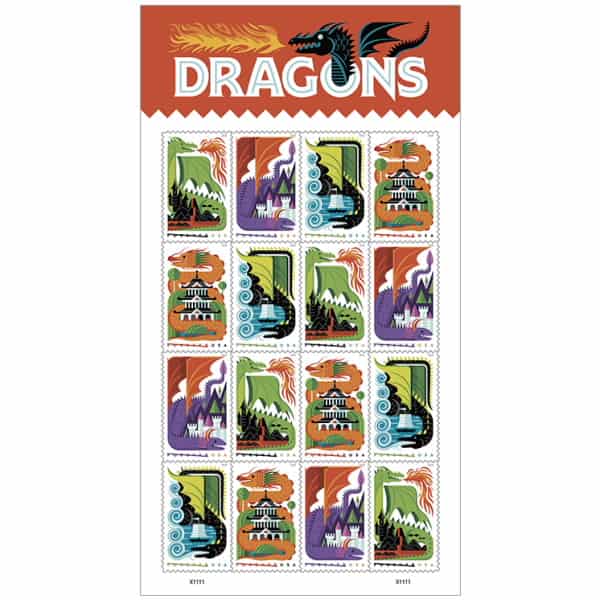 In addition, the stamps are available for ordering online now at USPS Dragons. The sheet of 16 Forever stamps is $8.00 each.    As we wrap up today, I'm thinking of all of the different movies over the years with the voices of actors portraying dragons! …. sounds like a future blog post topic for me!

 Anchors Aweigh,  
Helen 
---
Attribution & Thank you to the following who I'm referencing today
USPS 2018 Dragon Forever Stamps, image, excerpt
USPS Postal Bulletin 22499, 8-2-2018; image
USPS Dragons Forever! July 25, 2018, excerpt
Twitter 8-9-2018 

@cbusconventions, 

The Greater Columbus Convention Center image