There is a Bento Stationery Box Kickstarter underway running for 22 more days.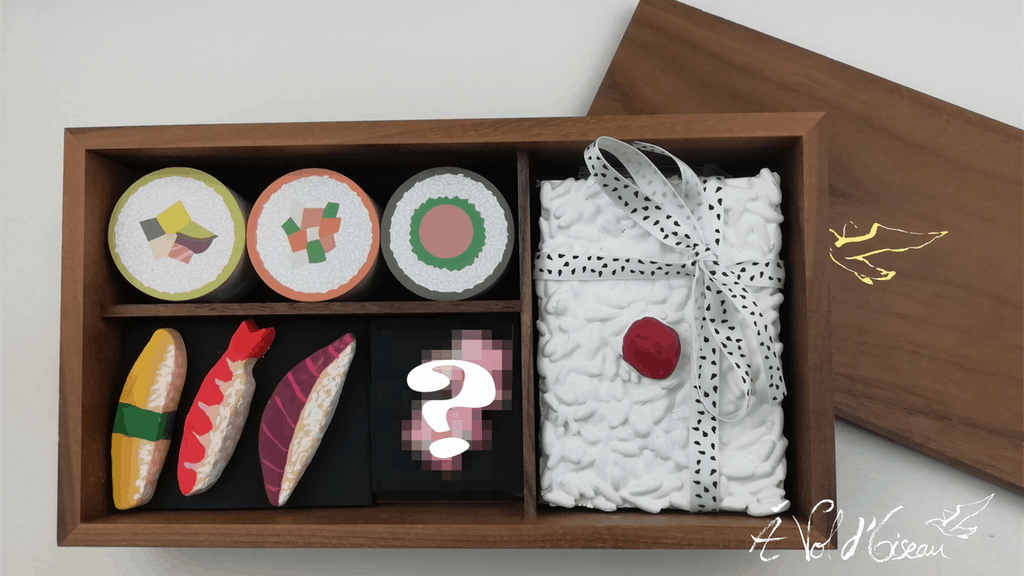 "A Japanese inspired set of stationery with sticky notes, erasers, and a notebook."
First, I'm applauding the originality of the stationery design!
Bento Stationery Box Kickstarter
To begin with, the project launch was on September 10, 2019, and is an All or Nothing campaign, meaning "This project will only be funded if it reaches its goal by Thu, October 10 2019 7:53 AM EDT."
"The Bento Stationery Box is an original set of sticky notes and other stationery items designed by À Vol d'Oiseau. It melds the originality of sushi inspired erasers, sticky notes and a notebook with the traditional aesthetics of a Japanese style wooden bento box."
Secondly, the creators of the Bento Stationery Box Kickstarter are Michael Flanagan and Perle Carneva – founders of À Vol d'Oiseau.
In addition, there are several levels of pledges available, beginning at $20 or more, going up to $60 or more, besides a "make a pledge without a reward" level. And there are a couple of early bird offers still showing available. Something to note in the fine print – it is their first stationery project. As such, they are listing it under Risks and Challenges for potential backers to be aware in their description.
And before wrapping up, it is showing a December 2019 estimated delivery. Have fun exploring and considering for a gift for yourself or someone.
See you tomorrow for my Wednesday blog post.

Anchors Aweigh,  
Helen
P.S. Today is daily blog post #1665, the trek continues to #1700!
---
Attribution & Thank you to the following I'm referencing today
Bento Stationery Box Kickstarter
You may also enjoy AnchoredScraps Starry Starry Sky Envelopes Spoon & Tamago 1-14-2017