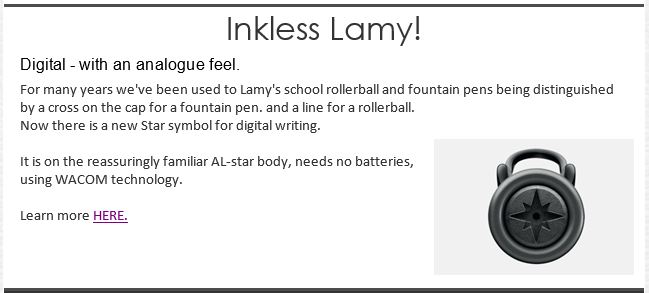 First, it is the Write Here wording that is compelling and why focusing on the digital writing pen today.
Inkless Lamy digital writing pen
"Digital – with an analogue feel.

For many years we've been used to Lamy's school rollerball and fountain pens being distinguished by a cross on the cap for a fountain pen. and a line for a rollerball.

Now there is a new Star symbol for digital writing.

It is on the reassuringly familiar AL-star body, needs no batteries, using WACOM technology.

Learn more HERE."
LAMY AL-star EMR  for Digital Writing
Next, we have the details on the device itself.
"Introducing the first LAMY digital writing and drawing instrument.

The all new LAMY AL-star black EMR stylus enables a high degree of writing performance and comfort suitable for a wide variety of applications. The LAMY AL-star black EMR acheives a writing experience that's fluid while maintaining a high level of comfort. EMR (electro-magnetic resonance) allows electronic pens to operate without either cords or batteries.

Its housing is based of the popular LAMY AL-star rollerball – chosen because of its highly functional design and perfect ergonomics.

The 0.7mm contact nibs are replaceable and are able to detect in excess of 4096 pressure levels. This gives the writer a high degree of control, line width, speed and accuracy. Compatible with a wide variety of note books, tablets and smart phones.  Click HERE to see if your machine is compatible."
My hats off to them for having a very long list of devices. You'll want to see if yours is included.

write here quality pen retailer
From their About page: "Write Here Pen Shop was founded in Shrewsbury, UK, in 2004 by John Hall to sell fountain pens and quality writing accessories in the UK and worldwide."
You really want to spend some time on the beautiful site and look around with all things fountain pens for our letter writing interests.
So where does this all lead for us? I'm already envisioning if we fast forward, one of the future considerations when upgrading my laptop, and/or smartphone is going to be if it is compatible with one of these types of digital writing pen devices. Wow!
Anchors Aweigh,