Happy Cooper Valentines Day Greetings 2020! Sharing my love of letter writing here continues to be a joy!
If you are still trying to figure out what to include in your Valentine's today, I am encouraging you to share the priceless gift of writing a few sentences of what the person means to you.
Here at AnchoredScraps it is becoming a tradition to share Cooper's Valentine photo.
My  special thanks to Pawville Surf City for putting together the set and taking the photo again this year.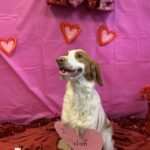 In my Valentine's cards and letters  this week I have been including paw prints and Cooper in the signature.  This great photo of him  came in yesterday. In April he will be turning four.
Today is daily blog post #1822.  Last year on this day we were looking at "Cooper, Valentine's Pictorial Postmarks 2019 & Celebrating AnchoredScraps 1450th Daily Blog Post Milestone Today".
And in less than two weeks we will be celebrating Five Year Anniversary Milestone blogging daily.
Wishing you a Happy Valentine's Day! 
Anchors Aweigh,  
Helen 
---
Attribution & Thank you to the following who I am referencing today
Pawville SurfCity North Carolina Excellent Dog Boarding Kennel, Image Cooper
You may also enjoy AnchoredScraps Cooper's Valentines Kisses Booth 2018, 2-14-2018