There is a Moina Michael Poppy Stamp Cachet I'm including for today's Memorial Day 2020 blog post.
Also, thank you for the emails today from several email blog subscribers here sharing about their observing the day.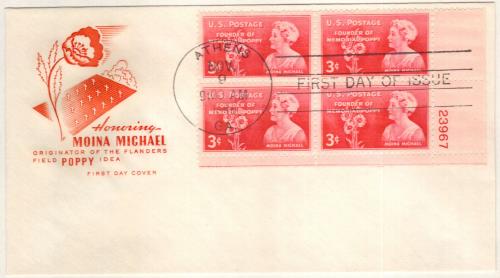 In looking at previous posts on this day, in my 2017 post, it includes the 1948 Moina Michael, known as The Poppy Lady stamp.
The cachet is available for only $2.50 over at Mystic Stamp.
"On November 9, 1918, Moina Michael penned her poem, "We Shall Keep the Faith," and resolved to wear a red poppy every day in remembrance of the fallen."
I'm including this excerpt about the stamp.
"On November 9, 1918, Michael was on duty at the 25th Conference of the Overseas YMCA at Columbia University. At 10:30 that morning, she found a copy of the November Ladies Home Journal and looked through it. The magazine reprinted John McCrae's poem, "We Shall Not Sleep," later named "In Flanders Fields." Michael had read the poem several times before, but this time it was accompanied by a graphic color illustration that, paired with the poem's lines, provoked a spiritual experience for her."
There is a great write up at greatwar.co.uk website about Moina Belle Michael and the Flanders Fields Memorial Poppy and The Flanders Fields Memorial Poppy Idea at The Great War 1914-1918 UK website.
In closing, thank you for joining me today.
Anchors Aweigh,  
Helen 
---
Moina Michael Poppy Stamp Cachet Attribution & Thank you to the following who are referenced today
Mystic Stamp U.S. #977 1948 3¢ Moina Michael
greatwar.co.uk website
AnchoredScraps 1948 Moina Michael The Poppy Lady stamp 5-28-2017