The Fruits and Vegetables stamp booklet debuts one week from today in Charleston, WV with the US Postal Service. 
I'm loving the timing that I am looking for getting some purple bell pepper seeds and so got to looking to see if any among the 10 portraits of fruits and vegetables in the new booklet of 20 stamps capturing "the classic beauty of still-life paintings" in a booklet.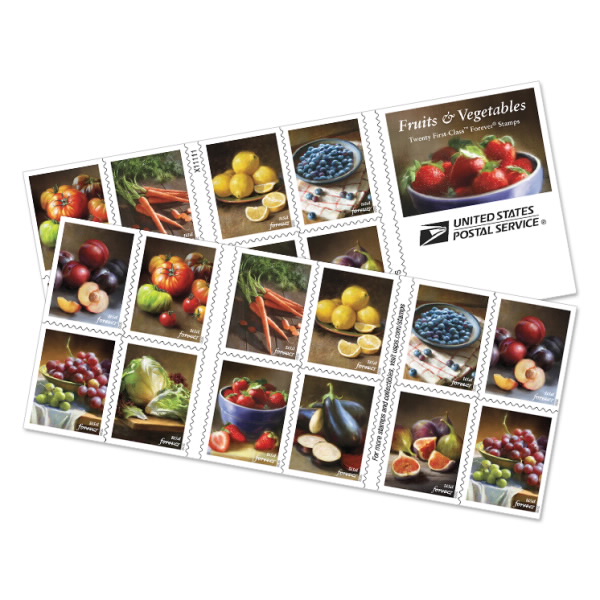 Fruits and Vegetables Stamps
Last month in the US Postal Bulletin the Stamp Announcement 20-21 was sharing about the upcoming issuing of them. 
"Each stamp features a collection of one kind of fruit or vegetable:

Red and black plums,
Heirloom and cherry tomatoes,
Carrots,
Lemons,
Blueberries,
Red and green grapes,
Lettuces,
Strawberries,
Eggplants, and
Figs."
Also, it shares how to go about ordering the First-Day-Of-Issue postmark and First-Day Covers, available at this link.
The Fruits and Vegetables Forever First Class Stamps booklet of 20 is $11.00 and available for pre-ordering at Postal Store #682704 online.
In search of Purple Bell Peppers
The discovery of Purple Bell Peppers came up while in conversation earlier this week about growing my red bell peppers. I was sharing they are still green and not red yet -which I'm apparently to be patient and give them time! What a joyous discovery to find out, as a "by the way, you know they do come in purple" to hear! 
The stunning photography of their Purple Bell Peppers at the Etsy NimbleNitecap Shop, out of Louisville, Kentucky you will want to explore!
An exciting pepper to add to your collection of beautiful sweet bell peppers. … Mix with red, green, yellow and orange peppers for a palette of colorful veggies.