It is Whimsical Wednesday Timer Letters on Day 3 of our two-week challenge. For my P.E.O. girlfriends I am hoping you are enjoying seeing the daisies! 
Among the elements I am including in my downloadable printable in Whimsical Wednesday Timer Letters, it includes bubbles, daisies, and a timer! And if wanting to write more than one letter today, there is a timer guideline below.
We are having fun with writing one letter today with the aid of setting a timer, kitchen, smartphone, or even an hourglass!
Whimsical Wednesday Timer Letters – Timer Guideline – if writing more than one letter!
Ten minutes for writing the FIRST letter;

Eleven minutes for the SECOND letter;

Twelve minutes for number THREE;

Thirteen minutes for FOUR;

Fourteen minutes for FIFTH; and

Fifteen minutes for number six and above.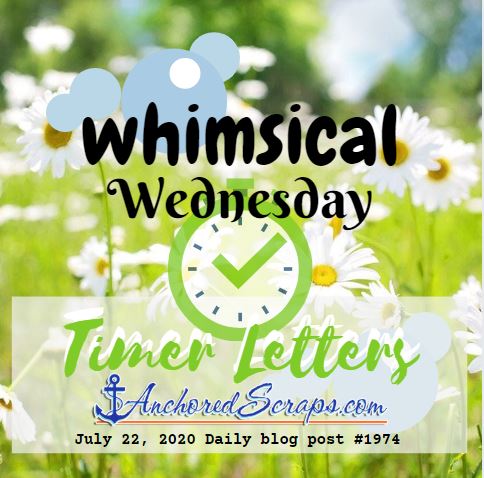 Two Week Challenge naming morphing into Two Week Letter-Writing Challenge
We began the week by calling it my Two Week Challenge. I'm seeing where I'm morphing that label name into my Two Week Letter-Writing Challenge.  My commit remains the same: posting by 6 AM Eastern each morning, and including a letter-writing topic for the day – which immediately I expanded to include my creating a pdf printable each day making it easy to participate. 
It is invigorating returning to posting in the early morning each day! Technically behind the scenes, I'm trying out scheduling the posts in WordPress for very early publishing times this week and so far the emails have been arriving around 7 a.m. with Monday publishing at 5:08 a.m. and Tuesday at 4:45 a.m. Furthermore, not to be TLDR, (too long didn't read), its been revealing about WordPress Cron Jobs and more, besides cache. The blog is posted to the server prior to it arriving in your inbox email, just as it always has been doing so for over five and a half years.