"Kid's Summer Letter Writing Club"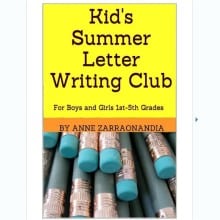 Welcome to a new week on AnchoredScraps.com!  
Today's blog post should be of interest to many of us especially as we enter the heart of Summer with weeks to go and before talk of back-to-school.  
It was a delight to find this book:  "Kid's Summer Letter Writing Club: For Boys and Girls 1st-5th Grades" By Anne Zarraonandia.  
The Kindle Publication debuted February 26, 2015.
Photo shown upper left: image of front cover of book, Kid's Summer Letter Writing Club: For Boys and Girls 1st-5th Grades" and is shown with permission of the author, Anne Zarraonandia.  Thank you Anne!   (On Twitter: @annezarra)
From the description on Amazon:
"Letter writing is fast becoming a lost art! In the book, Kid's Summer Letter Writing Club by Anne Zarraonandia, the author gives a step by step guide to forming a Summer Letter Writing Club with loads of helpful tips for parents and kids alike.  This book provides many activities and lessons for children from first to fifth grade, in writing a letter, addressing a letter, finding addresses to their favorite TV stars, singers and even the President of the United States.
This book is a direct result of the author's own son's letter writing club when he finished the first grade.  Friends came over to his house weekly to join in a fun activity that ranged from writing vacation post cards to requesting autographs from their favorite Star Wars actors.
Easy to follow and fun to use, this book will help parents fill some time during the long summer vacation with a hobby that can last kids a lifetime of fun!
It also gives children to practice their handwriting and printing, which is important in our computer age of keyboarding.  A perfect hand's on approach to an important life skill of letter writing!"

Some of the things that really caught my eye in going through the book is the club oath, and sample membership card included.  It includes Things you will need and how to come up with a list to invite your friends to join.  And it included a sample of what to put in the invite to send to your friends to join you.  It has a list of the types of letters you can write.  The idea is you get four of you, along with an adult, and write two letters at each club meeting. It goes over the components of a letter, what goes onto an envelope and even goes into the proper way to write a letter to the President of the United States.  It details nine meeting activities and additional activities too.   This means nine different meeting missions  – not the same meeting agenda done nine times.
In sharing my excitement about today's blog post with one of My Three Muses she is planning to order the book to give to their twin eight-year old nieces for their upcoming birthday.    Another thing I like about this book is the great use of creativity and it being an activity that is not going to cost a lot of money and will be memorable and help foster a hobby of letter-writing!   I can already envision the scrapbook layouts from taking photos of the Kid's Summer Letter Writing Club meeting activities.
One could have the grown-ups create their own Summer Letter Writing Club too if they choose – we will need a declared 'adult in charge' among ourselves! I'm going to have to see who Cuddy wants to invite for his local club – it will be long distance for Nala, and Lily & Gio, but Snoopy and Gigi are in the neighborhood, maybe we can look at having at least one club meeting for those out of town done virtually for them!
Please let me know if you will be having your own Kid's Summer Letter Writing Club; I am considering in parallel calling one for AnchoredScraps.com very soon!  I'm using the gavel now to close today's blog post.  Meeting adjoured! (clunk clunk sound)

Anchors Aweigh,
Helen