Labor Day 1956 Commemorative Stamp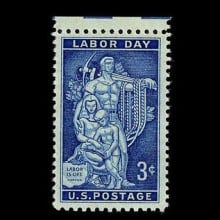 Today is the first Monday in September which means it is Labor Day! 
For those of us who are off from work today our plans may include a trip to the beach, a picnic, or a planned day of marathon-television-binge-watching of a favorite series on Netflix.   The reality is it may include actually logging onto your work email and checking things and/or dare I say it, for actually taking advantage of a quiet afternoon and 'working ahead' with our day jobs so that the four-day-work-week ahead is not too hectic.
"If all the cars in the United States were placed end to end, it would probably be Labor Day Weekend."  – Doug Larson
Labor Day first became a federal holiday in 1894.  The stamp was issued to honor American workers by the US Postal Service (On Twitter @USPS, @USPSStamps).   When the Labor Day Commemorative Stamp was first issued in 1956 the rate for a one-ounce letter first-class mail was 3 cents.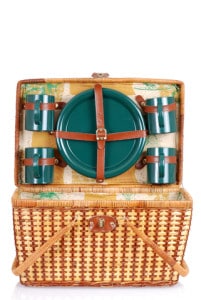 Attribution:  Image upper left  Labor Day 1956 Commemorative Stamp, Scott  Catalogue USA: 1082, 3¢ Labor Day single.  (On Twitter @PostalMuseum).   
Labor Day usually means the signaling that it is our last three day weekend until Thanksgiving. There will be federal holidays with Columbus Day and Veterans Day but for the most part the next long weekend will be Thanksgiving.
Thank you to @PostalMuseum, @USPS, @USPSStamps who are referenced in today's blog post.
Whether you choose to spend the day tweaking getting organized and situated for the fall season or to totally enjoy the day doing nothing (or perhaps a combination) wishing you an enjoyable day!  Now about those white shoes to wear after Labor Day…..

Anchors Aweigh,
Helen