Alexander Graham Bell Letters is our blog post on his birthday today of the inventor of the telephone as we visit a online repository of his personal correspondence.  And I have included a less than one minute video showing the 1939 Movie Premiere of "The Story of Alexander Graham Bell".  Given how much telephones permeate our lives it was important to me when planning the March blog topics here to include Alexander Graham Bell Letters on his birthday.   And there are two stamps celebrating him that I have included today.
Alexander Graham Bell Letters
It is wonderful to be able to search online and immediately find so many Alexander Graham Bell Letters.   The letters I viewed included typed letters with his signature, and some in his handwriting and signed.  There were letters from him and they also have letters to him in the collection.
Links included:
Alexander Graham Bell Family Papers, 1834 to 1974.: General Correspondence 

Alexander Graham Bell Family Papers at the Library of Congress
Premiere of "The Story of Alexander Graham Bell" (1939)
There is a really nice article about the 1939 movie celebrating his life: "As depicted in this film, Bell was a very busy man. He taught the mute to talk, improved the telegraph, invented the telephone, and even worked on human flight. Bell did all those things and more. By the end of his life, he had or shared in fourteen patents for the telegraph and telephone and sixteen more for other devices including hydro-airplanes."  

U.S. Stamps Celebrating Alexander Graham Bell – and – his first phone call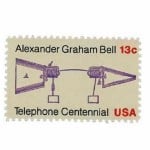 There are actually two stamps I came across.
There is the 1940 10¢ U.S.P.S. Stamp Alexander Graham Bell U.S. Stamp (shown above).
And there is the 1976 13¢ Telephone Centennial commemorating "the 100th anniversary of the first phone call, which was placed by Alexander Graham Bell on March 10, 1876. Bell's famous words were, "Mr. Watson, come here. I want you!""  
"Before anything else, preparation is the key to success." – Alexander Graham Bell
How amazing it is that we can watch on our smartphones a movie about the life of the person who invented the telephone.  I hope you'll make the time to try out some searches on the above links resulting in reading some of the Alexander Graham Bell Letters for yourself that is only a click away.  Join me tomorrow for my Friday blog post here at AnchoredScraps.com!

Anchors Aweigh,  
Helen
---
Attribution & Thank you to the following who are referenced today — 
Image above U.S. #893 1940 10¢ U.S.P.S. Stamp Alexander Graham Bell  Famous Americans Series – Inventors as shown at MysticStampCompany
Image above U.S.P.S. Stamp 1976 13¢ Telephone Centennial as shown at MysticStampCompany
YouTube Premiere of "The Story of Alexander Graham Bell" (1939) posted by historycomestolife
Article The Story of Alexander Graham Bell (1939) Miss Liberty's Film and Documentary World website