St. Patricks Day special fancy postmarks is today's blog post topic.   Happy Friday!
In yesterday's Postal Bulletin included among the Pictorial Postmarks Announcement are two St. Patricks Day Special Fancy Postmarks available!  
This is a great opportunity to send off your themed cards and have them stamped at one of these two post offices with St. Patrick's Day themed cancel postmark.
Special thanks to my stamp club friend Jimmy Jordan for letting me know about these fancy cancels and for making the time to help answer some questions about how the process works!
St. Patricks Day Special Fancy Postmarks
There  are two St. Patrick's Day themed postmarks available – the first one is at the Kahoka, MO Post Office, and the second one is at the Cleveland, OH Post Office.
Pictorial Postmarks are offered as a community service by the U.S. Postal Service "to commemorate local events celebrated in communities throughout the nation."
From the Postal Bulletin issued yesterday, "People attending these local events may obtain the postmark in person at the temporary Post Office™ station established there. Those who cannot attend the event but who wish to obtain the postmark may submit a mail order request. Pictorial postmarks are available only for the dates indicated, and requests must be postmarked no later than 30 days following the requested pictorial postmark date."   The bulletin goes on to provide the instructions on how to obtain a postmark from the list in detail.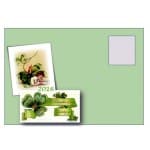 To net it out, what I'm going to do is the following – prepare five St. Patrick's Day cards, address, affix the stamp, and seal the back of each one.  Then I'm going to put all five of my stamped addressed cards into one Manilla envelope and send to the Kahoka, MO Post Office.  Along with my cards I am inserting a sheet of paper in the envelope requesting they be stamped with the March 17th date and then mailed.   I am also going to embellish the outer envelope with some free clip art running the envelopes through my color printer before addressing the envelopes to further dress up the card – the art work (called cachet) is applied by the requester (me, in this case).  I have created an example shown here (on left).  Thank you again to Jimmy for his explaining these terms to me!
This year we have the opportunity to do something different with our St. Patrick's Day cards and I'm encouraging us to take a few minutes to make this happen.  Join me tomorrow for my Saturday blog post as we go into the weekend.

Anchors Aweigh,  
Helen
---
Attribution & Thank you to the following who are referenced today — 
My stamp club friend, Jimmy Jordan, at the Wilmington Philatelic Society (WPS)
Image above and excerpt from Pictorial Postmarks Announcement U.S. Postal Service Postal Bulletin Issue 22436 March 03, 2016
Image above of themed envelope example by Helen Rittersporn using free clip art, March 04, 2016