Morse Code Themed Stationery is today's Tuesday blog topic.
Today marks daily blog post #391 and before marking the 400th milestone on March 31 I wanted to be sure to include this fun topic today.    It is fun to see so many options available of Morse Code Themed Stationery available – from post cards to writing sheet sets to even a themed mug!
Morse Code Themed Stationery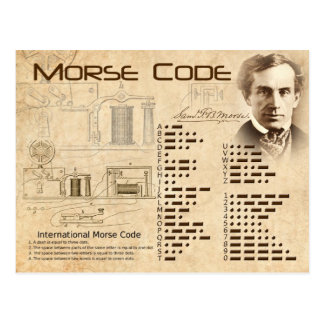 At Zazzle there is an entire Morse Code Gifts section and the first item to come across is this Morse Code Postcard, the artwork is designed by HTMimages.
There is a beautiful Morse Code Letterquette design at Moglea.com.  It is letterpress printed and hand bound and is offered in set of 12 writing sheets with envelopes.
Over at CafePress.com they have a wonderful assortment of Morse Code Stationery & Cards – they have made the designs available in a wide array of their products including coffee mugs.
Coming up in April will be National Letter Writing Month 2016!   Maybe these are a few items to stock up on as we approach getting ready for that fun activity in April.
Thank you for joining me today for Morse Code Themed Stationery.  I still enjoy using the Morse Code Translator that I have blogged about before here.
Wishing you a great Tuesday!   Di-dah-dah Di-dit Di-di-dit Di-di-di-dit Di-dit Dah-dit Dah-dah-dit, Dah-di-dah-dah Dah-dah-dah Di-di-dah, Di-dah, Dah-dah-dit Di-dah-dit Dit Di-dah Dah, Dah Di-di-dah Dit Di-di-dit Dah-di-dit Di-dah Dah-di-dah-dah Dah-di-dah-di-dah-dah

Anchors Aweigh,  
Helen
---
Attribution & Thank you to the following who are referenced today — 
Image shown above of Morse Code Postcard at Zazzle.com Artwork designed by HTMimages @zazzle
Morse Code Letterquette at Moglea.com @moglea_studio
CafePress.com  Morse Code Stationery & Cards @cafepress
AnchoredScrap.com blog post Wrap-up & Kick-off in Morse Code April 27, 2015 written by Helen Rittersporn