Ordering Easter Bunny Personalized Letters is today's blog post with still enough time to order!
Have you seen the different options that are available for ordering Easter Bunny personalized letters on line?  Today we are looking at two different services available from what I thought would be of interest to us – two options from Miles Kimball and the other service I found is at Kids Believe Letters dot com.  Easter is early this year – on March 27 – and this weekend Daylight Savings Time begins on Sunday at 2:00 AM Sunday, March 13th.
Ordering Easter Bunny Personalized Letters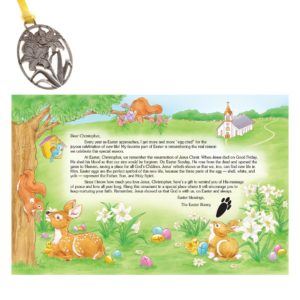 Over at Miles Kimball, they are offering two styles of a Letter and Gift From The Easter Bunny.  There is one that is whimsical with a pewter Easter egg ornament.   There is also a Personalized Religious Letter and Gift from The Easter Bunny which includes a cross ornament.  "The Easter Bunny will mail letter and Easter egg ornament to the child's home before Easter."  Included in their Q&A it has one person who remarked "I do it every year, for 9 years, because my grandchildren love it."  Most of the posted reviews were very strong positive.  They offer Personalized Easter Pencils in a set of 12, and other personalized Easter themed gifts.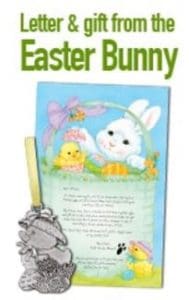 And over at Kids Believe Letters they offer quite a few options for personalizing your 2016 Easter Letter for choosing stationery background, letter text, with a five step process with buttons to guide you through to ordering.   The letter includes a certificate as "Official Easter Egg Hunter".
Thank you for joining me today for Ordering Easter Bunny Personalized Letters.   There is still time to make this happen with Easter a little more than two weeks away!
It is hard to believe it is already Thursday and what a fast week it has been.  Join me tomorrow for my Friday blog post as we head into this Daylights Savings Time weekend.

Anchors Aweigh,  
Helen
---
Attribution & Thank you to the following who are referenced today — 
Images above of Whimsical and Religious Letter and Gift From The Easter Bunny Miles Kimball Unique Gifts and excerpt
Image above Easter Bunny Letters from KidsBelieveLetters.com