On this Friday we are looking at the Pelikan Edelstein Fountain Pen Ink available in bottles and fountain pen cartridge.   The new Aquamarine Ink color I can't wait to get to try out!  The Aquamarine is also available in Collection Cartridge – both are new!
There is something extra special about using my fountain pen for writing letters and of course how much fun to see these beautiful colors of Edelstein Fountain Pen Ink bottles available at JetPens.
If you have a fountain pen or are considering getting your first one the shape of these ink bottles are beautiful.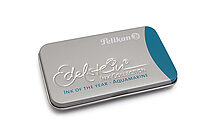 Colors available include Aquamarine, Amethyst (noted as "Last Chance" – and to Get Restock Notification), Aventurine, Sapphire, Tanzanite, Topaz, Ruby, Mandarin, Jade, and Onyx.   To see these inks also available in Collection Cartridge sets of Pack of 6 each has me already looking for the online shopping cart with JetPens!
On Thursday this JetPens Tweet caught my eye with it including an image of the Pelikan Edelstein Fountain Pen Ink Bottle.
The Pelikan's Perch
In looking around there is a really wonderful article on the Edelstein Ink Collection over at The Pelikan's Perch web site, written by Joshua.  It gives details on how to participate in the 2018 Ink of the Year edition with its design contest – and it is a week away from the new color being announced on June 18, 2016.   One discovers from reading the article that this Aquamarine color I am really excited to see is listed as the Pelikan Edelstein Ink of the Year 2016 color!
When I started blogging over a year ago, one of my objectives was to find others who love writing letters, stamps, typewriters, fountain pens, stationery, post cards – letter writing in general.  To find this web site of The Pelikan's Perch  I know I will be back to share more about the site in a future blog post.
It is hard to believe I am less than a month away from my 500th daily blog post since launching this site.   As we head into the weekend here's to using expressive color in our written words in our letters.  Join me tomorrow for my Saturday blog post.
Anchors Aweigh,  
Helen
---
Pelikan Edelstein Fountain Pen Ink – Attribution & Thank you to the following who are referenced today –
Image above upper left JetPens.com website Pelikan Edelstein Aquamarine Ink in bottle and cartridge and image above Pelikan Edelstein Fountain Pen Ink Collection Cartridge – Aquamarine
Image above JetPens tweet 6:33 PM – 9 Jun 2016 "Classy pens for fountain pen lovers! http://to.jetpens.com/1teMV8J  Clickable link in Instagram … http://ift.tt/1YgSoYB"  @JetPens
The Pelikan's Perch blog post News: Edelstein Ink of the Year 2018 May 10, 2016 written by Joshua Danley @pelikansperch
Pelikan Edelstein Ink of the Year 2018 Contest