With Game 5 of the World Series tonight I'm continuing my baseball-themed blog post topic with Cooperstown Pfister MLB Draft Correspondence.  The image left is the July 24, 2016, Induction Day Picture Postmark (pictorial cancellation). It includes an image of the logo of the Baseball Hall of Fame and the Induction Day ceremony date. And we wrap up today's blog post with Game 5 Optimism for the Chicago Cubs!
Let's begin with noting the 9-page PDF Guide to the George Pfister MLB Draft Papers I came across which gives a content listing of the 22 boxes.
The History section begins with: "George Pfister was a catcher and played one game for the Brooklyn Dodgers in 1941. He went on to coach for the Dodgers in 1952, was the farm director for the New York Yankees from 1965 – 1974, he then went on to work in baseball operations for Major League Baseball until his death in 1997. "
Cooperstown Pfister MLB Draft Correspondence
At the National Baseball Hall of Fame and Museum website, there is an insightful article from last year on Draft Records in Cooperstown.  It goes into detail on the George Pfister collection at the Hall of Fame.  He mentions the work done by Museum manuscript archivist Claudette Scrafford and shares insights from her in the article.
Reading the article gives a glimpse of drafts process and the inner workings of a Major League Baseball office at that time.  It notes this was prior to computers, the Internet, and social media; beginning with the 1968 Draft day showing the "meticulously handwritten notes and draft charts".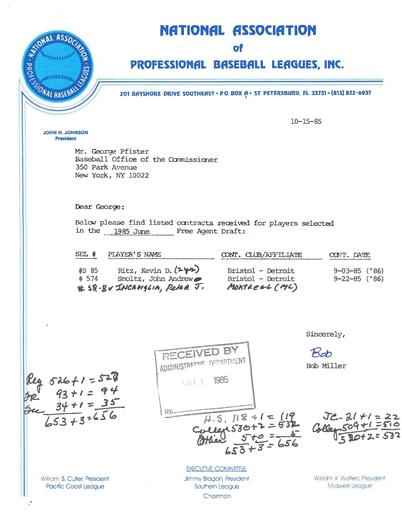 There is the image of "A letter sent from the National Association of Professional Baseball Leagues (NAPBL) to MLB executive George Pfister in October 1985. The letter lists the most recent contracts signed by players selected in the June 1985 MLB Draft, including future Hall of Fame pitcher John Smoltz. (National Baseball Hall of Fame Library)".  In viewing the image I had to smile realizing we've been watching  John Smoltz on his World Series Assignment as Fox analyst with the World Series games!
World Series 2016 Game 5 Optimism
The Chicago Cubs are behind 1-3 in the World Series 2016.  I'm loving reading the article on Comeback Cubs? Don't count 'em out.  Smiling reading how he begins the article:
"CHICAGO — So you think this is bad? Of courseyou do if you're a Cubs fan. But hang in there. Don't touch that dial."
Thank you for joining me for Cooperstown Pfister MLB Draft Correspondence today.  My optimism continues for Game 5 tonight at Wrigley Field as I close with Go Cubs Go!
Anchors Aweigh,