Christmas Letters Treasure Chest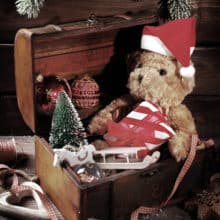 For our First Noel Letters Countdown Day 7, I'm mindful to begin this Christmas with creating a Christmas Letters Treasure Chest.
Even if there are no old letters to Santa – starting this Christmas we can begin collecting items to put into one! We may not have as many years worth of old notes and letters as we want, but we can begin.  While I have over twenty years worth of Christmas scrapbooks from every year, my idea of a Christmas Letters Treasure Chest is a little different.  It is going to be fun exploring this further!
Look for saving special Christmas sentiments and designate our own Treasure Chest to store them!
Things to put in it can include the Christmas newsletters receiving along with Christmas cards. And go ahead and print off any emails to include, making them more permanent than just in the cloud.
It has occurred to me today in sharing with dear friends that next year to plan on creating an actual  Treasure MAP to ensure finding all of the stashed small gifts picked up during the year!  Nod if you too have found yourself discovering afterwards the elusive gift(s) you knew you had already bought over the summer!
Join me tomorrow as we continue the countdown!

Anchors Aweigh,  
 Helen  
---
Christmas Letters Treasure Chest Attribution & Thank you to the following who are referenced today
Image Etsy Tin Christmas Music Box by hometowngeneralstore