First Noel Letters Countdown begins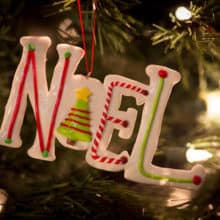 With twelve days to Christmas, The First Noel Letters Countdown begins today!
Today's blog post begins with a spelling lesson and sharing a letter I've written today to Santa.
N – O – E – L
spelled as  
O – L – E  !

 
Dear Santa,
For my First Noel Letters Countdown today I'm beginning with the story of:
Why Our Christmas Mantle spells out OLE instead of NOEL!
Our first puppy all those years ago we discovered liked to chew on wooden blocks – especially the four that spelled out N – O – E – L !
In fact, the letter N was found in tiny chewed up pieces.  Alas, what to do with only three of the surviving blocks and a choo-choo to pull the letters?
With changing the sequence of the letters we ended up with O – L – E !
Years have come and gone since we had Quin from puppy to age fifteen.  Even with faced with being able to get an entire new set of the four letters we keep our cherished OLE!

Anchors Aweigh,
 Helen  
P.S. Do you have a favorite play on Christmas words nestled among your Christmas decorating?  Why not capture a few notes-to-yourself about it and share in a note to family or even Santa.
P.P.S. Enjoy this rendition of The First Noel Pachelbel's Canon with the Kelowna Spectrum Singers, British Columbia, Canada that I am including today.    Join me tomorrow for Day 2!
---
First Noel Letters Countdown begins Attribution & Thank you to the following who are referenced today
YouTube The First Noel Pachelbel's Canon posted by celebrationsinger. Published on Dec 9, 2014. "The First Noel/Pachelbel's Canon arr. Michael Clawson. Kelowna Spectrum Singers. Director: Kim Kleineberg."