dashing through the mail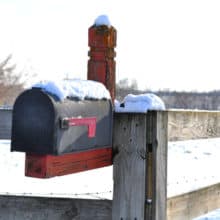 Today a slight change in the lyrics with dashing through the snow – with dashing through the mail ! The image of the snow bank with the mail box has me thinking of the Christmas movie classic, "Christmas in Connecticut".
It is hard to believe it is Tuesday and Christmas is less than 2 weeks away.  In an email I received today with Holiday cheer its concluding message said "those personal Christmas cards will suffer" until after the Holiday rush.  The balancing of getting our every-day done along all with the pressures of the Holiday calendar can be a lot to juggle.   The sentiment I found refreshing; I'm sending back a reply that I don't think there has to be a hard-time-line assigned to getting out the Christmas cards – especially if it means there is a personal message included from the sender!
"Christmas in Connecticut"
This movie I had in my Christmas movie library in VHS and this year am adding the DVD of it.
The movie "Christmas in Connecticut" was included in a blog post of mine back in July a year ago, Dominoes & Desks (Awaiting my new desk).  In my blog post I wrote: "In the movie it starts off with Barbara writing her latest article of her invented Connecticut farm (and invented husband and baby) which her readers just adore reading all about each issue.   There she is at her typewriter describing a fantastic scene with her farm house but is actually staring at her apartment.   It is a fun movie which if you have not seen you should, and if you haven't seen it in a while, queue it up to see one weekend afternoon."
Here is a movie Trailer for the 1945 film Christmas in Connecticut.

My message today is hang-in-there!   Here's to pausing and enjoying the Holiday Season.  Join me tomorrow as we begin 12 days of Christmas which will conclude on Christmas Day!

Anchors Aweigh,
 Helen  
---
AnchoredScraps.com blog post:  Dominoes & Desks (Awaiting my new desk).  July 08, 2015 by Helen Rittersporn.