Vintage Sugar Plum Fairy Nutcracker Cards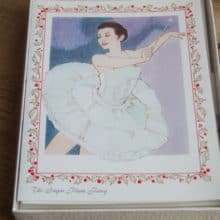 On this Sunday we are looking at these beautiful Vintage Sugar Plum Fairy Nutcracker Cards over at Etsy.
A lovely set of vintage Christmas Greeting Cards!
"There are two sets available each with twelve cards featuring six different styles. Buy one or both, for something a little different for wishing friends and family Seasons Greetings."
I'm including this YouTube of The Nutcracker. Mikhail Baryshnikov and Gelsey Kirkland.
"… This production achieved particular popularity when it was recorded for television in 1977, starring Gelsey Kirkland as Clara (one of her few roles captured on video), with Baryshnikov and Minz reprising their roles as the Nutcracker / Prince and Drosselmeyer respectively. The telecast was directed by multi-Emmy-winning choreographer and director Tony Charmoli. Although not televised now as often as it used to be, and despite the fact that it was not shot in high definition or widescreen, it retains its status as the most popular telecast of the ballet even today, having become a huge bestseller on DVD especially during the Christmas season. …"

Of course writing this finds me putting on my CD of The Nutcracker Suite by Tchaikovsky!

Anchors Aweigh,  
 Helen  
---
Vintage Sugar Plum Fairy Nutcracker Cards Attribution & Thank you to the following who are referenced today
Both images above and excerpt from Etsy VintageFlicker – Vintage Christmas Greeting Cards, Nutcracker Sugar Plum Fairy Holiday Cards, 12 cards with 6 different images, Perfect for the Holidays
YouTube of The Nutcracker. Mikhail Baryshnikov and Gelsey Kirkland. Uploaded by BallerinaLover1. Published on Mar 29, 2015.  Comment shown listed from the posting: "Famed conductor Kenneth Schermerhorn (1929-2005) conducted this television masterpiece in 1977 with the American Ballet Company."
Wikipedia List of productions of The Nutcracker (see section: Mikhail Baryshnikov (1976) Choreography: Mikhail Baryshnikov, after Vasily Vainonen, Company: American Ballet Theatre)