"A Year of Thank You Notes"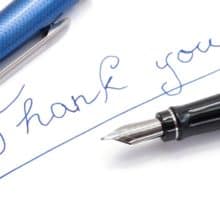 Did you happen to see the Parade Magazine article on "A Year of Thank You Notes" this past week? Less than two weeks ago I wrote a blog post on making sure to find the time for Prioritizing Writing Thank You Notes especially for Christmas gifts.
Talk about book-ends! With closing out the year with Thanks, and now to have the great timing to see this article in Parade magazine about starting the year off with Thank You Notes – not only for the beginning of the new year but for the entire year.
In its story on

 "Start 2017 Right With New Year's Kind-spiration" it invites you in joining

"… Parade and the Random Acts of Kindness Foundation in this month's kindness challenge. Start a new tradition of writing 52 thank-you notes—one a week to a different person for a year. It's an awesome way to begin 2017, as gratitude is proven to boost happiness and well-being."

 
Over at randomactsofkindness.org this is the link to their Thank You template for A Year of Thank You Notes.
In the link to the example in the Parade magazine article, it links to THE 5-MINUTE THANK YOU NOTE showing the above referenced blank template along with an example of one filled out. Hint – when filled out one removes the blank lines so it does not appear as a fill in the blank!
This is a different approach from the AnchoredScraps Time Saving Personalized Note Template I've created and shared here a few times.  It is where we really do print it off with the lines and fill in the blank and send it that way!
Thank you to one of My Three Muses who shared the Parade magazine clipping with me electronically over the weekend!
And thank you for joining me today!  Here's to making the time to thank those who are the obvious and perhaps those long-overdue in our life to express our Thanks!

Anchors Aweigh,  
 Helen  
---