Adding to Incremental 2017 Letter Writing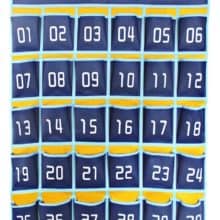 For today's blog post we are Adding to Incremental 2017 Letter Writing 1 + 52 + 55.   Intrigued?  It is so much fun!
The image of the "Numbered Classroom Pocket Chart for Cell Phones (30 Pockets, Blue Pockets)" I've been exploring options of how best to use it with my Letter Writing Goals for 2017.  I actually ordered this and another style – unnumbered – but prefer this numbered version.  I'm going to put them side-by-side to get my 52/55 numbered slots. My numbering can continue with 31, 32, 33, manually adding numbers to the "un-numbered" one.
1 + 52 + 55
1 = In my New Year's Day blog post, New Year 2017 Incremental Letter Writing, it was about making a list of who you wish to write to this year along with how many times, and then to go through the list again with your Christmas Card list.
+ 52 = Add to this yesterday's blog post with "A Year of Thank You Notes" with the idea of writing 52 thank-you notes one a week to a different person for a year.  Why not add that to the Incremental list we began on January 1.
+ 55 = And then we have Bill Zimmerman's Pep Talks for When You Need Them ebook with 55 daily Pep Talks I've blogged about before, back in September.  They are perfect for printing them off one per page – and then tuck into each pocket…
My planned away girls' weekend of scrapbooking has been canceled due to snow forecast; instead, now I can see myself assembling my lists above and going through populating these pockets.  And yes – we can use the pockets for Weeks and Days slot items. Stay tuned!

Anchors Aweigh,  
 Helen  
---
Adding to Incremental 2017 Letter Writing Attribution & Thank you to the following who are referenced today
Image above Misslo Numbered Classroom Pocket Chart for Cell Phones (30 Pockets, Blue Pockets) by MISSLO
Image above Homecube 30 Pockets Classroom Pocket Chart for Cell Phones Wall Door Closet Hanging Storage Bag Organizer (Light blue)
Image above cover Bill Zimmerman's Pep Talks for When You Need Them ebook
AnchoredScraps.com Blog posts: New Year 2017 Incremental Letter Writing on 1-01-2017; "A Year of Thank You Notes" on 1-04-2017; and Pep Talks for When You Need Them ebook on 9-06-2016. By Helen Rittersporn