Taking a variation of "Do not open until…" comes to mind when looking at the very creative Open When Letters Printable Envelopes.  They are offered through OpenWhenLetterShop at Etsy, and described as part of the "Open When Letter Collection™" and "O.W.L.S.™".
It is so much fun to see the unique creativity offered – and available with PDF for Instant Digital Download, along with assembly instructions.
"These envelopes are INSTANT downloads that can be printed immediately after purchase. They take about 5-10 minutes to assemble with just a gluestick and pair of scissors. A beautiful handmade gift for just about any and every situation you can imagine!"  "Envelope Size: Approx 7×5″ (WxH)  Envelope Quantity: 5 Envelopes"
For the envelope shown upper left today, it has this description for the printable –  "5 Open When Letters Envelopes | PRINTABLE | For A Friend/Partner/Long Distance Relationship/ MilSO/Military/Love Letter/Anniversary/Mom/Dad"
"OPEN WHEN…

◘ You feel really sick
◘ You have a really terrible day
◘ You need a confidence boost
◘ You need to know how much I love you
◘ You're feeling really bored"
It is very easy to lose track of time and just roam the different offerings at OpenWhenLetterShop.  And to see custom offerings too makes it even more fun!  I'll definitely be spending some more time looking and shopping this coming weekend.
Happy Thursday!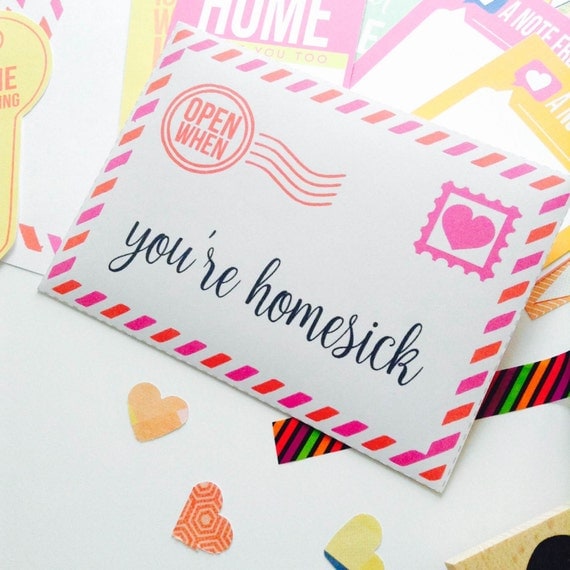 Anchors Aweigh,  
---
Open When Letters Printable Envelopes Attribution & Thank you to the following who are referenced today
Image above, and excerpt –  OpenWhenLetterShop Etsy 5 Open When Letters Envelopes | PRINTABLE | For A Friend/Partner/Long Distance Relationship/ MilSO/Military/Love Letter/Anniversary/Mom/Dad
Open When You're Homesick Image shown, from OpenWhenLetterShop