Postcard Fair Mailbox Postal Postcard Set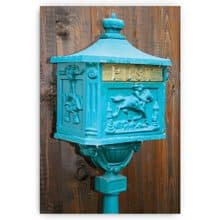 On this Saturday morning, we are looking at the Postcard Fair Mailbox Postal Postcard Set.
Today is daily blog post #696, so next Wednesday will be #700!
Be sure to join me tomorrow for a special Sunday blog post.
Postcard Fair Mailbox Postal Postcard Set
What a fun way to use postcards with our letter writing – with postcards of mail boxes, and letter writing theme!
Over at the Postcard Fair website their description is showing 20 postcards, 1 of each design in the variety pack set.  (In two different reviews at Amazon – July 2016, and April 2016, they report there being 10 designs with two of each; the Amazon listing also shows 20 different images I've included here). I'm going ahead and ordering anyway and will see what arrives!
Each postcard measures 6.1 x 3.9 x 0.4 inches.   (Think 4 x 6).  They are affordably priced at less than $8 for the set on Amazon; save $2 from that if Prime Member.
Here's to having fun exploring adding these post cards to among our letter writing stationery collection.

Anchors Aweigh,  
---
Postcard Fair Mailbox Postal Postcard Set Attribution & Thank you to the following who are referenced today
Mailbox & Postal postcard set of 20 Image and individual image, from listing at Amazon 
Postcard Fair website