Vintage Mailbox Cookie Jars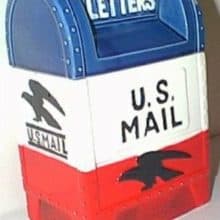 In looking at two Vintage Mailbox Cookie Jars today's blog post is written with a bit of whimsy.
If you are finding yourself starting off the new year with being calorie conscious then perhaps using this type of cookie jar to hold stationery and letter writing stamps and pens is a better use than filling with our favorite cookie!
So far what I have found are two ceramic ones – Vintage Mailbox Cookie Jars – the first one I located (shown upper left) states it was sold in 2007 with no price listed.
And this Vintage Mailbox Cookie Jar is being attributed to Fitz Floyd and currently available on ebay right with pricing right under $200 plus shipping!
The weather on this Saturday, has been very cold with the wind added in there so it has been a fun afternoon to look at these options.
Here's to staying warm and should you find yourself looking at one of these ceramic Vintage Mailbox Cookie Jars at a garage sale this Spring have fun considering getting one!

Anchors Aweigh,  
 Helen  
---
Vintage Mailbox Cookie Jars Attribution & Thank you to the following who are referenced today
U.S. MAIL MAILBOX COOKIE JAR 1979 CARA CREATIONS CORP Image above. "The jar is glazed inside and out. … Bottom is marked 1979 Cara Creations Corp Made in Japan. Height: 9 1/2″
VINTAGE US COOKIE MAIL BOX POST OFFICE COOKIE JAR CERAMIC KITCHEN FITZ FLOYD Image above ebay. "COOKIE JAR 10-1/4″ TALL – 6″ WIDE OPENING"