Year of the Rooster Forever stamp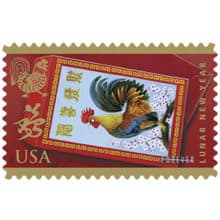 Last week the Postal Service issued the Year of the Rooster Forever stamp in Seattle with the stamp going on sale nationwide the same day, January 5, 2017.  "The Year of the Rooster begins on January 28, 2017, and ends on February 15, 2018."
If you are new to reading my daily blog – it was just last February 5th the Year of the Monkey Forever stamp was issued and blogged about here, "the 9th of 12 stamps part of the Celebrating Lunar New Year Series".  The new 2017 Year of the Rooster Forever stamp is the 10th in the series. The series began in 2008 and goes through 2019.  It still has the Years of the Dog and Boar to go.
Something to note with the stamp being issued in souvenir sheets of 12 – they cannot be split, and "the stamps may not be sold individually."  
If you are thinking you've seen a series by the Postal Service prior to 2008 honoring the Lunar New Year, you are correct – the first series ran from 1992 to 2007.
About the Year of the Rooster Forever stamp
"The stamp art depicts a rooster emblazoned on a red envelope (hongbao). Parents present red envelopes containing money to children and loved ones during Lunar New Year celebrations. The color red symbolizes luck in Chinese culture, while rooster imagery is often used to ward off evil spirits. The characters at the top of the envelope form a common Chinese greeting of celebration and wish for prosperity and good fortune, used most frequently during Lunar New Year. Artist Kam Mak created this original painting. Art director and stamp designer Ethel Kessler incorporated elements from the previous series of Lunar New Year stamps — Clarence Lee's intricate cut-paper design of a rooster and the Chinese character for "rooster," drawn in grass-style calligraphy by Lau Bun — to create continuity between the stamps in the series."
The Postal Bulletin continues with details on How to Order the First-Day-of-Issue Postmark and How to Order First-Day Covers.
These stamps are beautiful and I will definitely be ordering at USPS.com!  Happy Tuesday!

Anchors Aweigh,  
 Helen  
---
Year of the Rooster Forever stamp Attribution & Thank you to the following who are referenced today
Forever (0.47) Year of the Rooster issued January 5, 2017 Image above.  @USPS @USPSStamps #LunarNewYear.
Stamp Services –
Stamp Announcement 17-01
: Year of the Rooster Stamp 
Postal Bulletin 22456 
(12-8-16) Image and excerpt. 
ordering link USPS.com – Image of sheet of 12