Lighter than Air Mail Mighty Wallet & Passport Case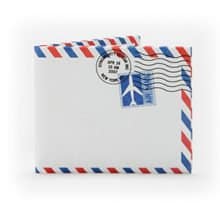 Today is a bit of whimsy with visions of lighter than Air Mail Mighty Wallet ® which has the classic Air Mail envelope look and appeal in its design.  It just came out a few weeks ago in March at the USPS.
Happy Sunday!
About the Air Mail Mighty Wallet & Passport Case too
"Made from a single sheet of Tyvek®, the Mighty Wallet® is a slim, folded, eco-friendly, and vegan alternative to old-fashioned bulky wallets. The Mighty Wallet® is 100% recyclable, has no animal by products or plant matter, and is a long-lasting sustainable choice for those who care about the future of our planet."
It is available over at the USPS.com website, along with full details.
If you are someone who likes to have more than one item in the same themed set, there is the Air Mail Passport Case.
Wishing you a joyous Sunday ahead on this Day 2 of National Letter Writing Month!  Join me tomorrow as we kick off the first week of April!

Anchors Aweigh,  
Helen  
---
Air Mail Mighty Wallet Attribution & Thank you to the following who are referenced today
USPS.com  Image, excerpt Air Mail Mighty Wallet®; and Air Mail Passport Case