There's No Place Like Wizard of Oz Envelopes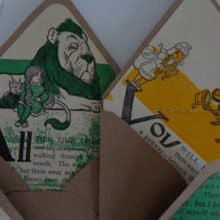 We are starting off the week celebrating L. Frank Baum's birthday with this set of handmade Wizard of Oz Envelopes.  And I'm including the final scene from the 1939 classic movie  The Wizard of Oz.
On this Monday morning, I'm cognizant we are about as half-way in a month as we can be and with it half-way through second quarter 2017! Tomorrow's topic is on taking action on that best of intentions to do list!
Wizard of Oz Envelopes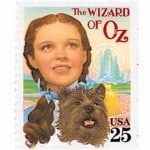 Over at Etsy, the LeObjectUnique listing describes it as "Fantastic set of 10 handmade envelopes. These envelopes are lined with illustrated book pages. The book that these came from is an original "Wizard of Oz" from 1903."
If the look and feel of these envelopes seem familiar, last October we included his 1970's Archie Comics Handmade Envelopes and Liners in my blog post on Archie Comics 75th Anniversary.  I have thoroughly been enjoying my set that I had ordered.
Wonderful Wizard of Oz
Back in August 2015, we covered the stamp with The Wizard of Oz in "Over the Rainbow".

Anchors Aweigh,
Helen

---
Attribution & Thank you to the following who are referenced today
YouTube There's No Place Like Home – The Wizard of Oz (8/8) Movie CLIP (1939) HD posted by Movieclips. Uploaded on May 26, 2011.
Wizard of Oz Handmade Envelopes –  LeObjectUnique. Image above.
Archie Comics 75th Anniversary, October 08, 2016 by Helen Rittersporn