Ziploc Letter Writing Organization Approach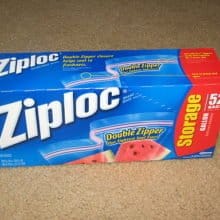 Good morning on this Wednesday with using my Ziploc Letter Writing Organization Approach as we are organizing ourselves to take action and not be caught having to make excuses for being late, or worse, remiss in writing that promised letter.
If the last time you went to Costco you are now facing a case of Ziploc bags in front of you and wondering what you are going to do with them, today's blog post is for you!
Today's daily blog post is a continuation from yesterday on Goal Setting Our Best Intentions Letter Writing. The Zig Ziglar video I included yesterday, Zig Ziglar's Top 10 Rules For Success, was one of the best compilations of his talks I've seen on YouTube. If you missed it, you'll want to make the time to see it.
Helen's Ziploc Letter Writing Organization Approach
The approach I'm sharing today I tested out during this past Lent Season when I wrote weekly the same six people each week, each individually.
I took a one-gallon Ziploc bag for each week and wrote the recurring Wednesday date with a sharpie on the outside of each bag.
In the Ziploc, I put the notecard and pre-addressed each envelope. The goal was to write each week for six weeks – the end result is I made it five of the six weeks with writing and sending, and I still have a set to send out in the future.  There was a seventh person I wrote twice but they were not included in the Ziploc bags and I found myself each time having to look up the contact information – having all of the envelopes pre-addressed really is a big help!
To net it out – my suggestion is no more than 11 names list and put into the Ziploc. I've included my Anchored Actions To-Do pad from 2015 I had introduced here, which is perfect for listing everyone's name.   If you would like one of these Anchored Actions pads, I've still got a few, send me an email with your snail mail and I will send to you, no charge, just realize this is first-come, first serve.
In the Ziploc, along with a list of names, include the note cards, and pre-address them.  This is the key – have the address written out on the envelope.  You can put the stamps in bulk into the Ziploc and put those on later, but make sure you have the address – if you don't have any of the addresses go find it now.  If you have any letters you are replying to, put them into the Ziploc too. Write the date on the outside of the Ziploc bag, as in for the week of May 17th, 2017.
It is fine to include in the stationery any Birthday, and/or Anniversary cards.
You can also create subsequent bags for future weeks, one week per bag.  And then just have the current week bag out to see, the rest you can put up knowing next week you can pull out the next one in the queue!  It could be you prefer to adopt this instead of being a weekly frequency to monthly and create a year's worth up front with 12 Ziploc bags.
Something optional here as we wrap-up, if you find you have some long overdue letters to get out, consider going ahead and contact your friend (via email is fine) and let them know your date reset, that you have not forgotten them and am sending now, or when anticipating and make sure to sit down and write the letter now!
Thank you for joining me today for my Ziploc Letter Writing Organization Approach.  Have fun with it!  Wishing you a great day ahead!


Anchors Aweigh,  
Helen  
---
Goal Setting Our Best Intentions Letter Writing Attribution & Thank you to the following who are referenced today
Image above File:Gallon Ziploc box.JPG By JamieS93 (Template:Charlie the unicorn) [CC BY-SA 3.0 (http://creativecommons.org/licenses/by-sa/3.0) or GFDL (http://www.gnu.org/copyleft/fdl.html)], via Wikimedia Commons
YouTube Zig Ziglar's Top 10 Rules For Success posted by Evan Carmichael
AnchoredScraps.com daily blog post – Goal Setting Our Best Intentions Letter Writing, May 16, 2017; Anchored Actions, April 26, 2015, by Helen Rittersporn.