Today's blog post is saying hello to the month with August Letter Writing Goal Setting.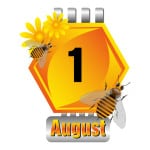 As we have the next five months in front of us to year-end now is a great time to do some quick goal setting.
This is my third year to have a Welcome August themed letter writing topic. In 2015 it was Bee-cause it is August!  In 2016, August Letter Writing Goals Quality vs Quantity.
The recurring pattern is now is a great time to stop and enjoy the pause of the remaining summer days before the launch of the fall season. With that being said, it is perfect timing while not rushing around to queue up finding those elusive addresses that keep us from sending cards in the mail. It is a great time to order those holiday themed return address labels so you have them on hand when it is time to do your holiday mailing. It could be you have been meaning to order some stationery, or even having a self-inking address stamp made.
Hello August Letter Writing Goal Setting
Some ideas include writing a letter to yourself to open at the beginning of next summer of the things you meant to do. It could be you did not get around to doing – perhaps more trips to the beach, or a camping trip. It could be you meant to find a manual typewriter while out and about among vintage shops or even your first fountain pen! You may want to plan to attend a stamp show or even travel to the Smithsonian Postal Museum.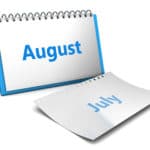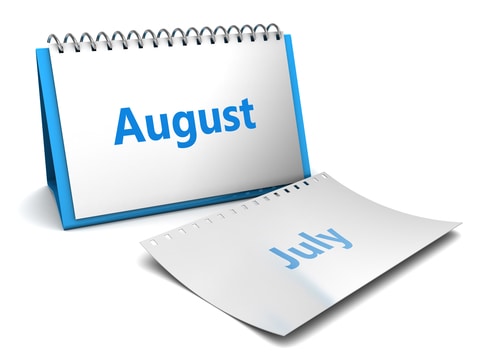 As far as something to do now in the present – you may find making a trip to the dollar store or favorite card store perfect for pre-buying all the birthday cards you need through year end. Go ahead and pre-address them now. You can even fill them all out, and then in the upper right corner notate the date. By doing so you will see the date to know instantly to then just place the stamp(s) on over where the date was notated.
If you've got someone you have meant to write all summer, go ahead and plan to write them this month. Catch up with pen pals. Order some of the new stamps. Consider sending off for one of the Pictorial Postmarks I've recently blogged about that are still available.  Have fun with it, and enjoy doing so in a relaxed manner!

 Anchors Aweigh,  
Helen 
---
August Letter Writing Goal Setting Attribution & Thank you to the following who are referenced today
Image above Dreamstime ID 67017221 © Aliasching – Hello August notepad paper message with unique lettering.
AnchoredScraps.com daily blog posts: Bee-cause it is August!, August 01, 2015; August Letter Writing Goals Quality vs Quantity, August 01, 2016; by Helen Rittersporn.