With it being a new month today's blog with a letter writing focus is on Having a Fresh Start New Notebook Time!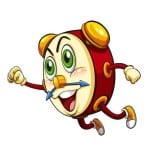 There is something so much fun about opening up a new notebook and beginning a new personal project. With jotting down listing our letters we want to send, notating projects this month, and even adding some tabs will find us on our way!
Having my new notebook reminds me of including Making time for Quadrant 2 (Covey) from my October 20, 2015, post.  
If you are wanting a refresher on the Quadrants, I go into the four-quadrants in that post.
So back to getting a New Notebook to use for the month of August!  If you have been looking for an excuse, and/or permission to make a trip to your favorite stationery, big box, dollar, fill-in-the-blank-favorite-store, go for it and have fun picking up one! I've got one in hot pink I'll be using. Last time they were on sale for back-to-school I ended up picking up 12 for the year, one for each month!
See if you don't have some fun carrying this around and take on that project you have been meaning to get around to THIS month! Me? –  I'm off to go get my ruler for marking some columns in it for a checklist too. Have fun!

 Anchors Aweigh,  
Helen 
---
Fresh Start New Notebook Time & Covey Attribution & Thank you to the following who are referenced today
Image above Notebook and Pen, Blank notebook and pen with starfish on office table, ID 83557860 © Tofumax | Dreamstime
AnchoredScraps.com daily blog post: Making time for Quadrant 2 (Covey); October 20, 2015, by Helen Rittersporn.