Today's blog post is on Leveraging Email Scheduling Ahead feature giving us more time for handwriting letters!
If you find yourself with your best of intentions wanting to send an email to someone ON THEIR BIRTHDAY and not rely on remembering that same day today's post is short and sweet with sharing this feature I use in Microsoft Outlook.
In addition to sending e-cards (there are several I've covered before, i.e. Blue Mountain e-cards, Jacquie Lawson e-cards, and more) – I find it very helpful at the same time to go ahead and write the email and schedule it. Some of my recipients are still "new" to receiving e-cards which could have ended up in their spam folder. In my email, I will mention I've sent them an e-card and to be on the lookout for it!
Leveraging Email Scheduling Ahead Birthday Greetings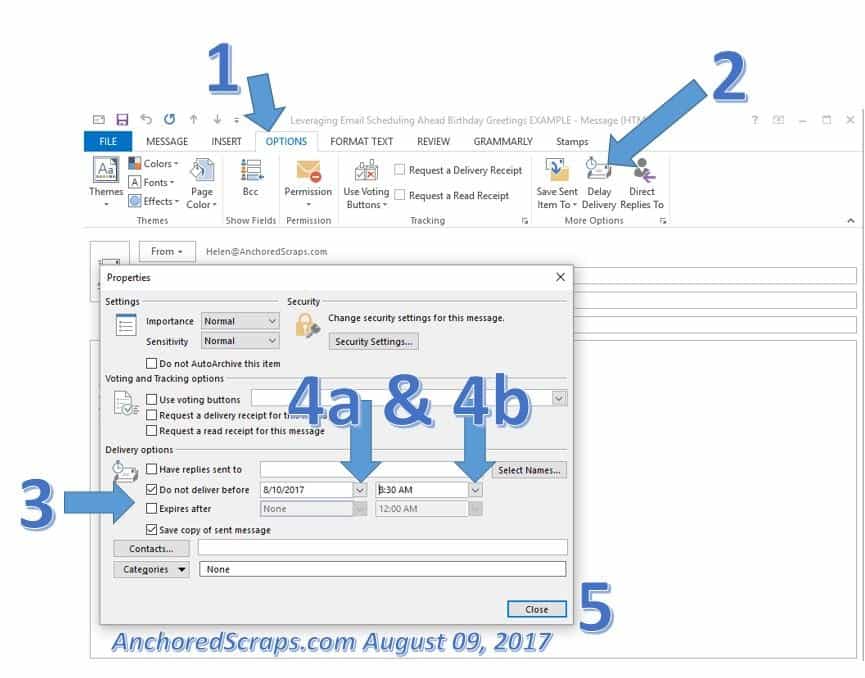 Steps: (Note – Your version of Outlook may look a little different.)
Compose the email in Outlook and prior to sending
1. Go to OPTIONS –then select –>
2. Delay Delivery.
3. In the box, you want to make sure to check the box under Delivery options – Do not deliver before.
4a. Using the pulldown for Date, and
4b. time you can select them both. Be sure on the time to pay attention to a.m. or p.m. setting.
5. This is important – THEN select CLOSE button on the lower right.
It will bring you back to your email.  And now select SEND.  It will sit in your outbox until time for sending.
Try it out sending an email to yourself for tomorrow to make sure you are good to go!   You can use this for not only Birthday Greetings!  If you really want to go for extra credit with yourself – take an hour this weekend and schedule ahead for the rest of the year!
Thank you for joining me today as we encourage old-style correspondence letter writing balancing with technology.  Countdown continues – 4 days to 900 daily blog posts!

 Anchors Aweigh,  
Helen 
---
Attribution & Thank you to the following who are referenced today
Image above Email envelope isolated on white background 3D rendering ID 83662752 © Thomas Söllner | Dreamstime
AnchoredScraps.com – Leveraging Email Scheduling Ahead Birthday Greetings image above created by Helen Rittersporn, & these daily blog posts:  "Happy" (Pharrell Williams) ecard at BlueMountain.com September 02, 2015; July 4th Greeting eCards Printables, July 03, 2016.