Today we are looking at this set from Etsy of RV Camper Cards Stationery. With Summer weather you may be planning or aspiring for a camping trip.
My letter writing to pen pals this summer has been including "talk" of investigating the range of different camping options from tents to RVs. I'll get back to more on that in a minute.
DandACards Etsy RV Camper Cards Stationery
How much fun it is to find this RV Camper Cards Stationery offered by mom and daughter team of DandACards.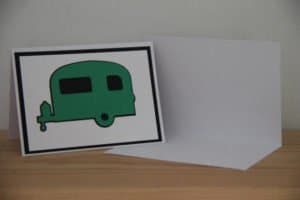 There are 5 handmade cards and 5 white envelopes. They measure 4X5.5 inches.
"Cards have a white card base that are outlined in black and topped in white. Cards feature a die-cut camper in 5 colors. Each set will include (1) of each color, including: red, yellow, light blue, dark blue, and green."
Tents, RVs, and S'mores – oh my! 
So back to my story on investigating camping options. It continues to be a lot of fun to see so many options. In addition, we've been making sure to take into consideration the weight our SUV can tow.  I've even toured our local KOA campground to learn more about the options available from them across the country.  At this point, I'm closing today's blog post with – Stay tuned! 

 Anchors Aweigh,  
Helen
---
Attribution & Thank you to the following who are referenced today
DandACards Etsy 5 Camper Cards. RV Card Set. Image above upper left of entire set, image above Green Camper Card, Excerpt.