Today we are wrapping up the last of the 800 series of my daily blog posts with this blue USPS Mr Zip TShirt.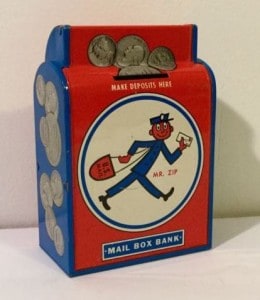 It is available on line at the USPS website.  I love Mr. Zip! I've even got a rubber stamp made that I use with my letter writing.
About the USPS Mr Zip TShirt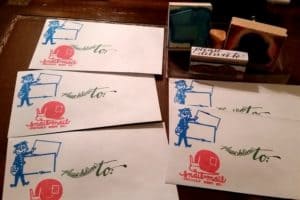 "This blue Mr. Zip t-shirt is made out of a poly/cotton blend.
The front of the t-shirt shows a vintage Mr. Zip, delivering mail.
… Care: Machine wash cold and tumble dry low. Each shirt is labeled with individual additional care instructions."
Enjoy considering adding a USPS Mr Zip TShirt to your wardrobe adding a little zip to your attire!
Join me tomorrow for my AnchoredScraps 900th Daily Blog Post since launching the site.

 Anchors Aweigh,  
Helen
---
Attribution & Thank you to the following who are referenced today
Image above USPS Online Store Mr Zip TShirt, and excerpt.
AnchoredScraps.com daily blog post by Helen Rittersporn, Mr Zip Vintage Novelty Items, April 07, 2016, 1963 Mr. Zip US Post Office Mailbox tin bank Ohio Art Vintage Toy Advertising; and Zippy Snailmail To Send Letterwriting stamps, November 07, 2016 image