Etsy Tailor Made Custom Address Stamp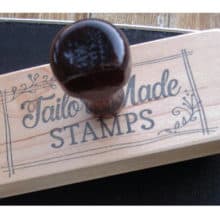 The unique design of this Etsy Tailor Made Custom Address Stamp is our focus today.
It is fun seeing its design mimic a hand cancel by the Post Office. The fact that it comes with a wooden handle makes it a "must-have"!
My Happy Mail Wood Mounted Stamp with Handle recently arriving in my mailbox finds me looking forward to using it.
Etsy Tailor Made Custom Address Stamp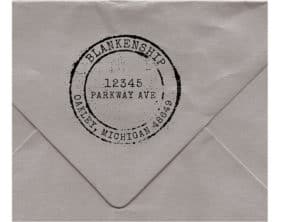 The Custom Address Rubber Stamp measuring 1.5″ x 1.5″ is a handmade item. It does ship worldwide from the U.S.
"Wooden Mounted Stamps are made of natural red rubber that will withstand all inks."
As the end of October is about to leave us, now is a great time to order something like this as a gift for yourself, or for a friend who loves letter writing, loves sending snail mail!
Join me tomorrow as we kick off a new work week. In the meantime, I'm off to look ahead to list of dates for celebrating in November – for sending off timely greeting cards with a letter. You can do this too!

Anchors Aweigh,  
Helen
---
Etsy Tailor Made Custom Address Stamp Attribution & Thank you to the following I'm referencing today for my daily blog post encouraging letter writing –