Typewriter Yesteryear Themed Desk Organizer by Molly & Rex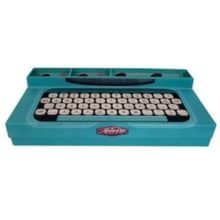 Welcoming the new week we are looking at the Typewriter Yesteryear Themed Desk Organizer by Molly & Rex.
Have you seen one of these before? Being able to find a photo of it opened I'm happy to get to share. More on it and the other items in the same theme I'm including later in today's blog post.

"Molly & Rex Organizers help you keep your items together and organized in style, at home or at the office."
"Yesteryear Desk Typewriter- Desk organizer box has three open compartments to hold larger items, and a magnetic flap-covered 3-section compartment to hide smaller items
I'm able to locate the Typewriter Yesteryear Themed Desk Organizer available at Amazon.
In addition, over at TheLakesideCollection website, it is showing it along with several other items in the same theme; however, it is listing it as out of stock.
"Give your office a retro theme with these organizers or notepads. The Set of 4 Pocket Notepads (3″W x 4″L, each) features 4 different designs: a record player, TV, camera and cassette tape. Each notepad has 75 sheets and a magnetic closure.
The Set of 10 File Folders (9-1/2″W x 11-3/4″L, each) comes with 26 labels. A record player on each folder reads "Rex Records", "I Want to Hold Your Plans" and "by The Secretaries".

"Shaped like a old typewriter, the Desk Organizer (14″W x 7″D x 3″H) holds pens, pencils, scissors and more in 3 compartments. Its magnetic closure opens to reveal more compartments inside for sticky notes, paper clips and other smaller items."

The File Box (9-3/4″W x 6″D x 12-1/4″H) looks like a retro speaker with "Molly & Rex" on the front. The top lid opens and closes. Paper."
I'm seeing a repeating color with retro typewriter items. Earlier this month included my blog post featuring the Hallmark Peanuts Typewriter Sentiment Holder;  I'm including the photo below noting the same color family.
If you decide to take today's letter writing post as a quest to locate the entire set please let me know, and likewise, should I find it I will be back here sharing my updates too! Join me tomorrow as we wrap up the month of October with my boo-ti-ful AnchoredScraps Monthly Blog Post Recap!

Anchors Aweigh,  
Helen
---
Attribution & Thank you to the following I'm referencing today for my daily blog post encouraging letter writing –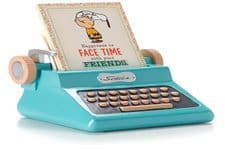 Image, excerpt Molly & Rex Yesteryear Desk Organizer Typewriter 
TheLakesideCollection image, excerpt