Discovering McCall's Vintage Patterns Notecards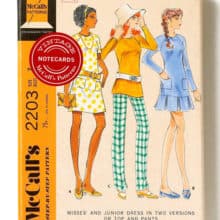 Quilt Show discoveries today from my day long road trip include McCall's Vintage Patterns Notecards.
My "new" 1956 Singer Featherweight sewing machine was the impetus for attending the Hearts and Hands ECA Quilters Guild Quilt Show in Sanford, NC today. More on my Featherweight later in today's blog post.
Hearts and Hands ECA Quilters Guild Show
First, It is important to say "Wow!". The show was beautifully done. The quilts were exquisite and I marvel at the talent and art on display.  The winning quilts were adorned with not store bought ribbons but were quilted!  Hats off to the Vendors as the booths were full of enthusiastic shoppers.
No kidding on The Quiltmobile – the quilt fit over the entire car, following the window cutouts and shape. Sitting inside are Lucy and Ethel, rider and driver of the Quiltmobile. You can see photos of the car and them, and read about the non-profit organization community service projects at that above link.
McCall's Vintage Patterns Notecards

While strolling among the booths, there, sitting among other fun items in the Cary Quilting Company booth it sat awaiting its discovery.  The box of 16 folded notecards includes invelopes with sewing pattern design on them.
There are four vintage designs, with four of each in the wonderful vintage looking box.  The front of the notecard is the front of the pattern, and the back, the back of the pattern. They are blank on the inside. It is made by Chronicle Books. At the end of today's blog post is a link to a previous post with a stationery set also by Chronicle Books.
Featherweight Poppy
While my two roadtrip buddies were roaming the show, it was enthralling to have my "new" Featherweight there for a servicing visit – think day at spa and tune-up in one!
If you have been aspiring to own one of these, or are wanting to get another one expanding your collection check out Featherweight Poppy. In a future blog post I will share some photos of my "new" Featherweight!
Here's to same day road trips, and making time to embrace today! I'm off to write thank you letters in my new notecards!

Anchors Aweigh,  
Helen
---
 McCall's Vintage Sewing Patterns Notecards Attribution & Thank you to the following I'm referencing today for my daily blog post encouraging letter writing –
Hearts and Hands ECA Quilters Guild Quilt Show, Image
McCall's Vintage Patterns Notecards, images, 
@McCallPatternCo
Cary Quilting Co, 
@CaryQuiltingCo