Congratulations Letter Writers Alliance 10th Anniversary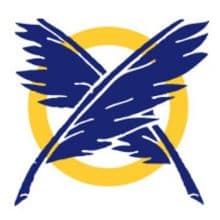 On this Sunday afternoon, my blog post is sending Congratulations LWA 10th Anniversary to the Letter Writers Alliance. And we are looking at their LWA Pigeon Post Kit.
Today is daily post #970 of my letter writing blog since launching AnchoredScraps on February 26, 2015.
Congratulations Letter Writers Alliance 10th Anniversary

One of my early blog posts here was sharing my LWA Membership Packet arriving in the mail in April 2015.

At their About Us page they share size and mission – "The Letter Writers Alliance is a member based organization dedicated to keeping letter writing alive."… "With over 12,000 members worldwide, the member site is the biggest part of the Alliance. We offer free printable downloads, exclusive member products, and vintage postal items."
They are having a Virtual Social October 22nd, Sunday, this afternoon.
LWA Pigeon Post Kit
Probably, my favorite item listing for sale at their shop is the Pigeon Post Kit. I'm going to have to order this and mail it to one of my favorite Pen Pals!
There is a note at their site that "It is  not available to our International Members (sorry!)" – so will be sending it within the U.S.
"Send some stand-out mail with our "Carrier Pigeon" service! Send the Pigeon AS IS – No Box Needed! We give you everything in the kit to send the pigeon back and forth, keeping a correspondence through the bird, just like a real carrier pigeon."…

Full Kit Includes

1 Pigeon (plastic, not real folks!)
3 Pigeon Post message forms
3 mailing label pouches
Instructions on how to mail
Postage for one mailing

How does it work?
Place your message in the supplied pouch, affix the pouch to the back of the pigeon, put the stamps on it, and pop it in the blue mail box on your corner! The bird will arrive at its destination to the delight and awe the recipient. It is best if it is mailed at the blue mailbox to avoid possible mail rejection" …
My LWA Membership

From April 08, 2015 this image is showing off  "My Letter Writers Alliance membership card package just arrived from them in the U.S. Mail and it is so much fun!  For $5 – yes Five Dollars – it gave me my Lifetime Membership!"
I'll be printing off today's blog post and putting into the snail mail to Kathy Zadrozny and Donovan Beeson. Congratulations!

Anchors Aweigh,  
Helen
---
Attribution & Thank you to the following I'm referencing today for my daily blog post encouraging letter writing –
Letter Writers Alliance – LWA website. Excerpt, images.
These previous AnchoredScraps letter writing daily blog posts include mentions of Letter Writers Alliance: National Card and Letter Writing Month celebrates with "From Me to You" 4-08-2015; Complement Thursday with Edelweiss Post 4-16-2015; Participate in 100 cards for 100th birthday & LWA 10-13-2016.