Discovering Studio Series Artist's Tile Postcards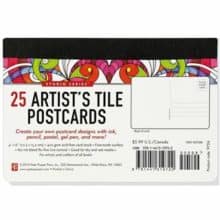 The ability to have artist quality Studio Series Artist's Tile Postcards is of interest and our focus for today. Discovering these Studio Series Artist's Tile Postcards are reminding me of aspects of scrapbooking with starting with a blank page. In this case, the one side is totally blank.
One of the aspects of letter writing I love is being able to dash off a postcard to someone with a quick message. It can even have the promise "will write soon".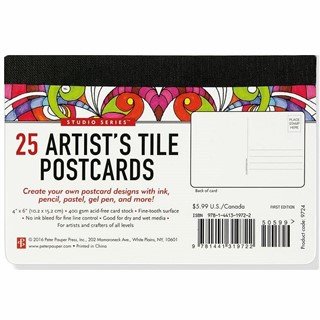 Back in May, we looked at the Strathmore Blank Watercolor Postcards.
About the Studio Series Artist's Tile Postcards
They are offered by Peter Pauper Press. The pricing is $5.99 for 25 postcards measuring 6 inches wide by 4 inches high. I'm adding this set to my list of next purchases.
"Create your own postcard designs with ink, pencil, pastel, gel pen, and more!"
Some of the features include:
"Sturdy 400 gsm card stock."
"No ink bleed for fine line control."
"Good for dry and wet media."
"For artists and crafters of all levels."
"Backs of cards have space for your personal message and are lined for addressing."
My postcard collection keeps growing – perhaps yours is too! It continues to be a joy on this daily journey encouraging old-style correspondence letter writing. Enjoy!

Anchors Aweigh,  
Helen
---

Discovering Studio Series Artist's Tile Postcards Attribution & Thank you to the following I'm referencing today –
Studio Series Artist's Tile Postcards, Amazon, Image, Excerpt. @PeterPauperPres ‏
AnchoredScraps daily blog post: Strathmore Blank Watercolor Postcards, May 19, 2017, by Helen Rittersporn